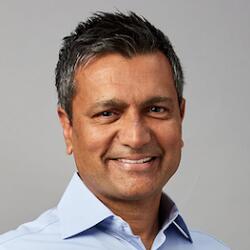 Dharam Rai
Vice President, Customer Experience
Dharam Rai is the Global Vice President of Customer Experience at Sonos. In this role, Dharam is responsible for all aspects of Customer Care, Customer Experience, and Customer Success.

Prior to joining Sonos, Dharam established and led globally distributed customer success and experience organizations in Fortune 500 companies such as Oracle and Sun Microsystems, as well as early- to late-stage startups, including a successful IPO and an acquisition. Dharam has a track record of performance in enterprise as well as technology driven consumer companies, leading and scaling pre- and post-sale Global Customer Success organizations, delivering best-in-class customer experience. 

Dharam has a Bachelor's degree in Computer Science (BS CS), and a Masters in Business Administration (MBA) with a major in International Business.

Beyond the credentials, Dharam is an empathetic leader, who nurtures relationships and builds trust with the employees, stakeholders, as well as the customers. Dharam strongly believes that people are at the heart of any successful organization and leads with a 'human-first' mindset.