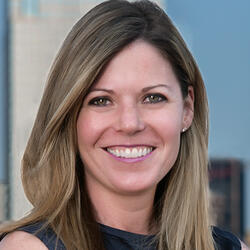 As chief marketing officer, Denise Karkos is responsible for the overall management of TD Ameritrade's marketing and advertising to the long-term investor, trader and advisor segments. In this role, she leads segment strategy, brand and advertising, social media and content marketing, marketing analytics, and marketing technology and operations. Denise has also served as managing director of brand and advertising and managing director of retail segment strategy within the firm.
Karkos is a digital native and long-time marketing industry veteran. Prior to joining TD Ameritrade in 2010, Karkos spent four years with TD Bank as the senior vice president of marketing planning. In this role, she managed the retail marketing strategy and helped grow the business organically and through acquisitions.
Her early experience at Initiative Media, Hill Holliday and Digitas gave her a strong foundation in media planning and buying with a focus on digital. Later, at L.L.Bean, Outside Television and VIA she drove broader marketing strategies, focusing on advertising, CRM, branding and partnership marketing.
Throughout her extensive career, Karkos has received multiple marketing honors, including a Clio, numerous Webby, ADDY, and Financial Communications Society (FCS) awards. Her more recent accolades include an Advertising Women of New York Changing the Game – Paradigm Shift award in 2015 and a 2016 Cojone's award, presented to her at South by Southwest.
Karkos received a bachelor's degree in marketing from the University of Notre Dame, where she was a four-year varsity letter winner and captain of the women's soccer team.