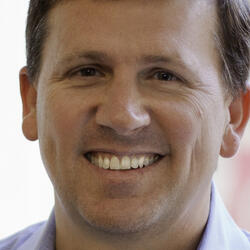 David Staas brings to NinthDecimal more than 13 years of marketing and product experience in both the mobile and advertising industries. David has been a part of numerous mobile start-ups and is extremely passionate about the location-based media and advertising industry.
As President of NinthDecimal, David is responsible for the company's go-to-market strategy and business execution, with direct responsibility for marketing, product management and engineering. David served as interim CEO of NinthDecimal for six months prior to his promotion to President, achieving record quarterly revenue growth, launching the Location Graph product, and creating a performance-based mobile business. Prior to the interim CEO role, he served as Senior Vice President of Marketing and Product Management, leading the company's expansion into mobile.
Before joining NinthDecimal, David was Vice President of Marketing at Ad Infuse (acquired by Velti), a leading pioneer in mobile advertising. There, David built a premium mobile network as well as a mobile ad platform deployed by some of the largest global mobile operators. Prior to Ad Infuse, David led the Global Product Marketing team at Openwave Systems, the company responsible for pioneering the mobile Internet. David was responsible for go-to-market initiatives across the full $400M annual product portfolio in the Americas, Europe, and Asia. He also founded the Messaging Anti-Abuse Working Group, an industry consortium of mobile carriers and ISPs to combat spam.
David has a bachelor's degree in architecture from the University of Virginia and a master's degree in business administration from the Fuqua School of Business at Duke University. He resides in Menlo Park, Ca with his wife and three children.