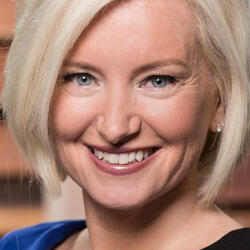 Carolyn Everson
Former VP, Global Marketing Solutions
@ceverson
Carolyn Everson is Vice President, Global Marketing Solutions at Facebook and Instagram, where she leads the company's relationships with top marketers and agencies. Carolyn oversees a team of regional leaders, and the teams focused on global partnerships, global agencies, and the Creative Shop.
Prior to Facebook, Carolyn was the Corporate Vice President of Microsoft's Global Advertising Sales and Trade Marketing Teams. Carolyn also spent seven years at MTV Networks. Her last role was as Chief Operating Officer and Executive Vice President of U.S. Ad Sales for MTV Networks, where she oversaw strategic planning, operations, and finance for MTVN's U.S. Ad Sales department. She also was responsible for MTVN's Direct Response business and for Generator, the cross-platform, cross-brand strategic sales and marketing group.
Carolyn has been named to AdWeek's "AdWeek 50" since 2013. In 2015, she was named to the top of Business Insider's list of the Most Powerful Women in Advertising, and she has been named a "Woman to Watch" by Advertising Age. Carolyn was twice included on Fortune's "40 Under 40."
Carolyn is on the Board of Directors of Hertz Global Holdings, Inc.; serves on the boards of DonorsChoose, Effie Worldwide, the Mobile Marketing Association, and She Runs It; and is an advisor to Luma Partners. She is the Chair of We Day, New York, which encourages and supports young people who are creating transformational social change. Carolyn is a member of the 2017 Class of Henry Crown Fellows within the Aspen Global Leadership Network at the Aspen Institute.
Carolyn holds a bachelor's degree in liberal arts and communications from Villanova University, from which she graduated Summa Cum Laude. She also obtained a master's degree in business administration from Harvard Business School, where she was a Baker Scholar. Carolyn is a member of the Villanova University Board of Trustees, and a trustee of Montclair Kimberley Academy. She resides in Montclair, New Jersey with Doug, her husband, and Taylor and Kennedy, their twin daughters.