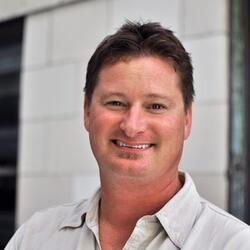 Brian Hull
Head of Global Creative Labs
IBM Watson Advertising and Weather
Brian Hull has spent over 20 years creating memorable brand experiences, managing world-class teams, and developing profitable businesses. He has won numerous awards for his distinctive work while driving measurable results for his clients.  
Brian is now the Global Head of the Creative Labs at IBM Watson Advertising and Weather, where he leads a network of over 25 designers, copywriters, developers, offering, and project managers who create human-centered design experiences that drive business outcomes.  
During his tenure at IBM, Brian has played critical leadership roles in the creation of data-driven design experiences such as Watson Ads, the world's first AI-powered advertising creative that leverages machine learning and natural language processing to make sense of unstructured data sets (i.e., text and voice). And IBM Advertising Accelerator with Watson, which uses AI to predict creative variants, automate discovery & segmentation of audiences and reveal robust insights regarding creative impact.  
Before joining IBM via an acquisition of the Weather Channel, Brian held executive design roles at Questus, Grey, and Organic, where he managed the growth and change of the organizations and the day-to-day activities of global creative teams.