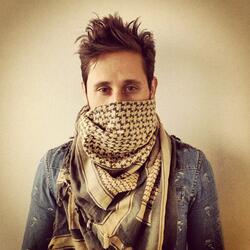 Brian Carley
North East Creative Lead, Razorfish and Chief Creative Officer, Rokkan
Creative leader, strategic partner, believer in the power of optimism.

Ad Age's A-list 4x. Forbes' most influential agencies.

Global background leading integrated platforms for Cadillac, Lenovo, JetBlue, Mondelez, Verizon, Hallmark, The Humane Society, Nestle, Pantone, William Grant & Sons, Amex, Coca-Cola, General Mills.

Speaker at Cannes Lions, SXSW, MediaPost, Digiday, Advertising Week.

Winner of more than 250 recognitions in creative and strategy award shows worldwide.

Creativity knows no boundaries. As leaders we have a responsibility to push for connected ideas through empathy, helping us to understand unique voices and cultural differences to make greater impact. 'Digital' is a behavior and not a medium. Best practices can be dangerous. People are at the center of everything we do, not consumers, or users or eyeballs. Be human. Stay positive.
As early as I can remember I was curious about how things appeared to me. All the visual mediums that I had at my fingertips became my outlet. I was heavily influenced by the monsters in old horror films and my older brother's comic book collection. I would spend hours sketching, painting, and coloring my own creatures, comics, and stories… and occasionally my face. I never stopped. For me the process of getting to the final output was always the thrill of it. I continued to pain, draw, and write into my formative years but took up music as well. If there was an outlet for the things in brain, I found it and used it. In college I studied filmmaking and animation.
My transition into advertising was easy although somewhat convoluted. The short version is that I went from programming, multimedia CD-authoring, HTML and Flash into design and art direction, almost by accident. From there I never looked back.
Today, I apply that same love of art, design, storytelling and craft and 21 years of professional experience to the work that I do. I am currently the Chief Creative Officer at Rokkan and the North East Creative Lead at Razorfish where I help to run the creative department and oversee all aspects of the creative output of the agencies. During my time at Rokkan, we were named to Ad Age's A-list 3 times and listed among the 10 ''Most Innovative Agency" by Forbes. We were awarded multiple industry awards including Cannes Lions, ADC Cube, One Show Pencils, Webbys, OMMAs and more. Prior to working at Rokkan, I worked as Executive Creative Director at Saatchi & Saatchi New York and before that I served as Creative Director at JWT New York.