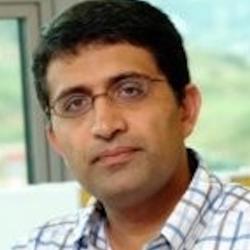 Ashraff Paruk
Managing Executive- Digital Lifesytle Services
Ashraff Paruk is the Managing Executive for Digital Lifestyle Services at Vodacom where he leads the ecosystem development, lifestyle, video, advertising, innovation and acceleration teams.
Ashraff has vast knowledge and experience when it comes to business strategy, merger strategy, technology and innovation which years of experience in business development, mobile media and value management. Ashraff is well respected within the mobile and digital industry with his thought leadership and direction when it comes to information strategy and management, mobile portals including mobile tv, product strategy, management and customer retention management strategy.
Ashraff has a successful track record especially within the telco industry, taking MTN and Vodacom into the digital era. His passion for digital is testament with his success in growing the Vodacom Digital business by 300% while starting up and directing 7 other digital businesses in his own capacity.
In his career Ashraff has led many other companies to successfully implement their digital strategies which also includes:
Aeonova360
Entrepreneur
Altech Technologies
MTN South Africa (Pty) Ltd
MTN Group
Accenture