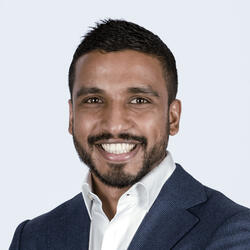 Arshan Saha
Vice President, Southeast Asia
Arshan Saha is the President of Xaxis APAC.
In his role, Arshan is responsible for Xaxis' strategy, operations, and growth. These include client development, trading and partnerships, to providing the best programmatic media solutions across the region.
Prior to his current role, Arshan was the Vice President of Xaxis South and Southeast Asia. Through his enthusiastic and tireless effort, he established offices in Singapore, Malaysia, Thailand, Indonesia, Philippines, Vietnam, and India.
As one of the founding members of Xaxis in Asia Pacific, he has since built the region's business with full charge of all nine markets' P&Ls. Within a short span of three years, he grew the Xaxis business 20-fold.
Before Xaxis, Arshan's illustrious career in digital media spans a decade, across two continents, having started his career with Adconion Media Group in London. He later joined Innity Corp, where he got a double promotion over a four-year tenure and played a critical role in establishing the company as the leading media network in SEA.
Arshan has worked with over 300 clients across multiple industries and an array of large and mid-sized publishers as well as technology vendors across APAC to drive first in adtech and innovation. He was voted into the Interactive Advertising Bureau (IAB) South East Asia Leadership Council in 2012, making him the youngest council leader in the IAB. He was also the winner of the best young talent below 30 award in 2012 and most recently nominated as Campaign Asia's 40 under 40 most talented individuals in Asia Pacific.