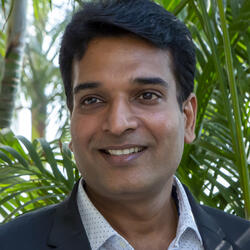 Amit Gupta, MD for Httpool India, has more than 15 years of experience in the Digital space, starting from e-commerce to advertising. Having spent so many years in digital has helped him see the evolution of India's growth story.
Amit started his career in the IT hardware & consumer
durable distribution business while traveling across different cities in India & later became an intrinsic part of the shift happening towards e-commerce. After working with companies like Rediff, UTV & Ibibo, he saw immediate potential in the ad space market &, along with a friend, co-founded Httpool Digital in India. It's been an exciting & adventurous journey for him, starting with a small capital & a two-member team with initial day offices across coffee shops in Mumbai to a strong 40 member team in 2020. Httpool India is now amongst the top digital ad selling companies in India.
He attributes the essence of this success to constantly upgrading themselves & adapting to the fast-changing environment within the digital space. One of the company's key growth driver has been partnerships with global technology platforms & creating a niche for them within the market.
Being part of a start-up journey, he likes spending a lot of time with young minds sharing his experiences with them & also learning from them. He has personally invested in a few of them & always believes in investing in people rather than businesses. Having cherished a decade of entrepreneurship, he looks ahead to more significant opportunities and gets newer technologies to impact the industry.