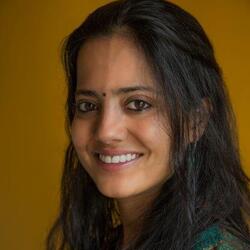 Akila Jayaraman currently Vice President, India at Cheil, a leading digital full service agency in the country. With over 17 years of experience, she has 
built skillset across consulting, tech, to media and advertising. Her experience working with some of the world's biggest brands like Airtel, Google and currently Samsung speaks for itself.  A trusted partner for senior business leaders and an authority in digital marketing.
Prior to Cheil, Akila joined Essence in 2017 to spearhead the mobile app marketing proposition for clients in India and led the integrated media strategy, planning and client servicing for the agency's Google business in the market.Prior to Essence, Akila served as Director of Performance Marketing at Madhouse, where she was responsible for the mobile performance marketing practice.
In 2019, Akila was named to Impact magazine's 40 Under Forty list. She is also an active industry contributor, having co-authored consumer trends reports ranging from emerging apps to the role of privacy in consumers' digital life, as well as Mobile Marketing Association and GroupM's mobile marketing ecosystem report in India.
An avid mobile technology, startup and product evangelist, Akila is passionate about new business and market development across the mobility value chain. Outside of work, she is an aspiring darbouka percussionist and holds an MBA in Marketing from the University of Pune.