At-a-Glance

Company Name: MRM Worldwide (Princeton Office)
Company Representative: Jason Alan Snyder, Senior Vice President of Digital and Technological Strategies
Member Since: 2008
Ecosystem Role: Agency

 


"Our mobile devices are becoming an extension of us as physical beings. And, as technologies evolve, I one day foresee the merger of these devices with our own biology..."  J.A. Snyder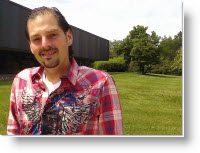 Describe your company and what role does it play in the mobile marketing ecosystem?
MRM Worldwide is an InterPublic Group (IPG) company and one of the top five global digital and direct agencies with a footprint of 62 offices in 40 countries with over 2,500 employees. Our Mobile Center of Excellence continues to grow in our Princeton office. The Managing Director of the Princeton office, Marcy Samet, is a huge proponent of mobile. Marcy is a great partner and a brilliant marketer. Working together we continue to drive our mobile offering forward with client engagements all around the world.
Our mission is to help our clients build their brands by building Customer Utility™. To this end we passionately and effectively integrate mobile into our client offerings. Our philosophy is that mobile is not a channel in and of itself, rather it is a device where all channels converge and it is ubiquitous. For these reasons, mobile is included as a part of the overarching strategy we offer our clients. Being a part of IPG allows us to leverage the unbelievable mobile resources and assets that exist in our global agency network.
How does your company add value or differentiate itself in the marketplace?
We believe that in today's world, it is no longer important what brands claim they are but what consumers think (and know) a brand can do for them. It's a world of value add, of custom experiences, and participation marketing. To succeed in this new world, brands must deliver utility. At MRM Worldwide, we have become masterful at connecting brands with consumers and developing and distributing relevant measurable programs and platforms that attract, engage, acquire, and retain customers by building Customer Utility™, resulting in greater return on marketing investment for our clients.
What advice would you give to someone who is new to mobile marketing?
Stay current. Keep it simple. The best ideas are always the simplest ones. Innovation comes from the fringes. Always be innovating.
What is the one thing you wish you would have known before getting into the mobile marketing industry?
The amount of practical, tactile engagement with the devices that is required to develop a compelling audience experience. Prior to my joining MRM, I invented the technology that is being marketed as the mobile service called JagTag (http://www.jagtag.com).
JagTag is a first in physical world connection technologies in that it enables mobile consumption of both human and machine readable codes – without software being pre-installed on the handset. Just snap an image of anything and get contextual information (text, audio, video, etc.) about that thing. Its first manifestation is as a 2D barcode reader and is already being embraced by companies like Nike and Time Warner.
Going through that product development process and in my work with my global marketing clients at MRM, it became instantly clear that mobile devices are inherently emotional. Our mobile devices are becoming an extension of us as physical beings. And, as technologies evolve, I one day foresee the merger of these devices with our own biology. But, I digress...
 
Would you like to mention one of your successful campaigns?
We do a tremendous amount of mobile work with Educational Testing Service (ETS). From recruiting and registration to test preparation, we engage their global audience.
Educational Testing Service (ETS) wanted to reach undergraduate Juniors and Seniors without plans to take the GRE, the test for graduate school admission. This was a previously untapped audience.
When we originally discussed mobile as a channel to reach the target Jr/Sr audience, Shelly Punchatz, Executive Director of Marketing at ETS, and her innovative team were already well aware of the benefits that leveraging a mobile platform would not only provide ETS, but ultimately the customer as well.
Within the overall construct of ETS' Jr/Sr Campaign, we developed two mobile advertising tests to gauge students' appetite for marketing communications via mobile. It was a phased approach employing SMS and WAP technologies.
The use of the mobile space effectively translated ETS' message to take the GRE "while you're still in school" to the young adult audience. Both programs saw better than expected conversion rates and lead captures. The primary objectives underlying these programs were met and the Jr/Sr Campaign continues with an expanded mobile test scheduled for the fall of 2009.
What are 3 three things one should do to ensure a successful mobile marketing (MM) campaign?

Any mobile component should be considered within the overall campaign strategy and not as a one-off effort
Mobile should be used to leverage "traditional media", when possible
As with any other direct marketing, mobile is no different: test and refine, test and refine
 
How does Mobile Marketing Association help you drive your mobile strategy?
The MMA is a partner for anyone interested in mobile advertising. It offers a wealth of information all in one place from guidelines and best practices to news and research. As this medium develops the MMA is quick to learn, quick to update and quick to notify their members so that we as members of the mobile ecosystem are connected and have a place to connect.
Would You Like to Be Considered for Featured Member Program?