December 3, 2009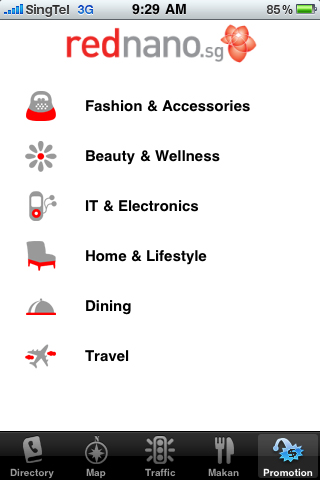 Singapore, 2 December 2009 – Why pay normal prices? It is now possible for the best deals in town to come to the palm of your hand.

Rednano Mobile is using a breakthrough in location-based technology to alert you to the promotions and discounts right in your vicinity, no matter where you are and whether you are standing still or on the move.

The information is available through Rednano LOCATE, an award-winning location-based information service for mobile phones.

For instance, if you are in Isetan Scotts looking out for promotions on handbags or on the latest fashion wear, you can use Rednano LOCATE to direct you to the nearby retailers offering them at special prices or deals.

It currently lists more than 650 merchants with promotional offers up to 80% discount! These are partners of DBS Bank's Christmas campaign for their Credit and Debit Cardholders. DBS' Managing Director & Regional Head for Cards & Unsecured Loans, Mr Subba Vaidyanathan said, "At DBS, we are always thinking of new and innovative ways to provide convenience at our customers' fingertips. With Rednano LOCATE, our cardholders will be able to find the best deals on DBS cards wherever they are on the island, making their Christmas shopping more convenient and enjoyable."

Rednano's Business Development Director Ms Shirley Tan said, "We launched this for the festive season with DBS Bank which is always looking for better ways to serve its customers and promote its partners."

This comes barely a month since Rednano Mobile teamed up with local telcos StarHub and MobileOne to offer food directory service Makan through Rednano LOCATE, giving users food reviews, images, ratings of good eating spots and pinpointing the ones closest to their location.

Rednano's CEO Mr Paul Jansen said, "We are continually searching for the right partners who can help us give our users practical value from using Rednano LOCATE. We are now talking to other potential partners."

From now till 31 December 2009, Rednano LOCATE's latest offering, Promo, will feature more than 650 Christmas promotional deals, exclusive only to DBS Credit and Debit Cardholders. Organised in six key categories such as Fashion & Accessories, Beauty & Wellness, Dining, Home & Lifestyle, IT & Electronics and Travel, the listing boasts of established brands like Agnès b., ALESSI, CRABTREE & EVELYN and Epicentre. Users of Rednano LOCATE have the luxury of being able to choose from a wide range of such brands and the promotional offers located nearest to them.

Rednano LOCATE is currently supported on mobile phones with operating systems such as Symbian, Windows Mobile 6.0/6.1/6.5 (latest version), BlackBerry, Java J2ME and iPhone. Users who do not have Rednano LOCATE installed in their phones can get it by sending the word "locate" to SMS shortcode 33333. They will receive a link to download the free application. There are no data charges for downloading or using Rednano LOCATE.

Officially launched in December 2008, Rednano LOCATE is well-received by users for its rich localised information. It garnered endorsements from local telcos and handset manufacturers who now preload it into their latest top-line mobile devices. In June this year, Global Telecom Business, a Euromoney publication for top managers in the telco industry, honoured Rednano LOCATE with the 'Best Consumer Service Innovation' prize, an international award for consumer innovation.

Brands and advertisers who wish to explore innovative ways of reaching out to online and/or mobile users especially for upcoming festive seasons such as Valentine's Day and Chinese New Year, can call the Rednano sales hotline at 6319 8383, email [email protected] or visit www.rednano.sg/advertisement.

-------------------------------------------------------

Issued by SPH Search Pte Ltd
Co. Regn. No. 200613505N

Media Contact

Pearly Mak
Assistant Manager
Corporate Communications Division
Singapore Press Holdings Ltd
DID: 6319 1225
HP: 9765 6704
Email: [email protected]

For more information, please contact:

James Ong
Manager, Marketing Communications
SPH Search Pte Ltd
Tel: 6319 1263
HP: 9389 8929
Email: [email protected]

About SPH Search Pte Ltd

SPH Search was born of collaboration between two media powerhouses: Singapore Press Holdings Ltd (SPH) and Schibsted ASA. The two companies, listed and headquartered in Singapore and Norway respectively, have long been in the business of giving people information, and significantly, in the context which makes the information more useful.

Both companies have also established reputations as trusted sources, each over more than a century, with their continuous delivery of accurate information speedily. The platforms on which they do this have changed over the years and have, since the 90s, included the World Wide Web.

Their joint venture, SPH Search, aims to provide the premier online tool for anyone seeking information about Singapore; its people and its businesses. It intends to respond to queries speedily. Most importantly, it plans to make relevance the hallmark of its answers.

Visit www.sphsearch.sg for more information.

About Singapore Press Holdings Ltd

Main board-listed Singapore Press Holdings Ltd (SPH) is Southeast Asia's leading media organisation, engaging minds and enriching lives across multiple languages and platforms. It publishes 17 newspaper titles in four languages and over 100 magazine titles in Singapore and the region. Every day, 3 million individuals or 79 percent of people above 15 years old, read one of SPH's news publications. SPH's internet editions of its major newspapers enjoy over 150 million page views with 9 million unique visitors each month. Other new media initiatives include AsiaOne, omy, rednano.sg, ST701, STOMP and The Straits Times RazorTV. SPH has also ventured into broadcasting, outdoor advertising and properties. For more information, please visit www.sph.com.sg.

About DBS

DBS is the largest bank in Singapore, a leading bank in Hong Kong and is one of the largest financial services groups in Asia. Headquartered in Singapore, DBS has operations in 16 markets and is a well-capitalised bank with "AA-" and "Aa1" credit ratings, one of the highest in the Asia Pacific region.

As a bank that specialises in Asia, DBS leverages its insights, deep understanding of the region and appreciation of local cultures to serve and build lasting relationships with its clients. DBS provides a full range of services in corporate, SME, consumer and wholesale banking activities across Asia and the Middle East. DBS will leverage its growing presence in China, Hong Kong and Taiwan to intermediate the increasing trade and investment flows in the Greater China region. The bank is also focused on extending its footprint and facilitating capital flows in fast-growing Indonesia and India.

DBS acknowledges the passion, commitment and can-do spirit in each of its 14,000 staff, representing over 30 nationalities. For more information, please visit www.dbs.com.