February 14, 2014
SINGAPORE, 13 February 2014 – Chinatown retailers who stayed open over Chinese New Year would have seen a greater number of shoppers visiting the district more than once and staying longer than they would during a regular weekend, according to big data company AdNear.
AdNear uses location data to drive superior advertising targeting across mobile devices and has collected more than 100 million user profiles across Southeast Asia, Australia and India since its launch just over a year ago.
The company's technology tracked a total of 4676 Singapore-based mobile users in the shopping districts of Chinatown, Marina Bay Sands and Orchard Road over Chinese New Year weekend. Its findings are an example of how far targeted mobile advertising opportunities have come, with big data guaranteeing much higher return on investment and conversion rates for brands using the technology.
AdNear's data showed the vast majority of Chinese New Year shoppers appeared on Orchard Rd, but repeat visitors to Chinatown (people who were tracked in the vicinity more than once over the weekend) doubled compared to regular weekends, while the number of shoppers returning to Orchard Rd more than once was down 16 per cent.
The time people spent shopping in Chinatown increased 26 per cent compared to regular weekends, whilst the time spent in Marina Bay Sands and on Orchard Rd reduced by 20 per cent.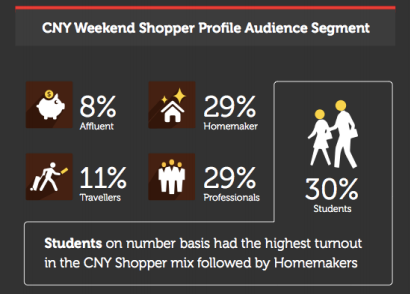 AdNear generates consumer insight through the real-time detection of audience geo-location and analysis of audience location data,without capturing personally identifiable information . The company's location-mapping infrastructure is the largest in the Asia-Pacific and users are located by pinpointing signal levels from mobile devices, without the need for GPS or operator assistance. Businesses can then leverage these insights to share relevant content with targeted consumers within a geo-fence.
Using the same Chinese New Year data, an advertiser could determine that a greater concentration of Singapore's affluent shoppers were spotted in these locations over the Chinese New Year period, and that their average shopping time was just over two hours – 13 per cent longer than students who clocked an average of 1.8 hours of shopping over the period.
Founder & CEO of AdNear, Anil Mathews, said that the trove of data unlocks real potential in mobile advertising and provides measurable ROI for brands to monitor progress and make better marketing decisions.
"AdNear helps brands to better engage with consumers on mobile by sending targeted messages to the right people who are at relevant locations for elevated results," Mathews said.
AdNear profiles users in Southeast Asia, Australia and India, and has the largest location-based audience in Asia-Pacific. Global brands such as Google, Microsoft, Audi, Toyota, Procter & Gamble, Unilever, McDonalds, Redbull and many more are already leveraging AdNear's technology to target pre-existing as well as bespoke audience segments.
AdNear's ability for targeted mobile advertising lies in consumer behaviour analysis. For instance, an AdNear-tracked device that shows up frequently at an airport likely belongs to a business traveller – brands receive this information and are then able to target advertisements, such as relevant shopping deals for retail stores in the airport when the consumer is in the vicinity.
AdNear kicked-off operations in November 2012 after receiving Series A funding of USD 6.5 Million from Sequoia Capital & Canaan Partners. The company is headquartered in Singapore and plans to expand into Southeast and North Asia while building on its technology infrastructure.
To access the complete report, go to:
www.adnear.com/pdf/chinese_new_year_shopping_trends_2014.pdf
About AdNear
AdNear is a big data company that uses location data to drive superior targeting across mobile devices. Built on proprietary hybrid geo-location platform, AdNear's advertising platform provides location awareness on phones without the need of GPS or operator assistance. AdNear is headquartered in Singapore and has offices in the USA, India, Australia and Indonesia. The company is backed by investments from Canaan Partners and Sequoia Capital. For more info please visit www.adnear.com.