May 1, 2019
Submitted by MMA SA
The Mobile Marketing Association South Africa (MMA SA) has announced the 14 new board members and strategic partners who will spearhead the delivery of the MMA SA's future development over the next year.
The board members hold senior C-Suite or executive positions, representing a diversity of sectors — from FMCG to financial services. Each nominee was identified for their alignment to the MMA's global board and for their active involvement in and contribution to the local marketing industry.

As board members, their experience and participation in the industry will play a part in driving the MMA SA's strategic direction, when during their one year tenure they will aim to direct the organisation's focus towards productive targets and take on a diverse spread of local initiatives.

Sarah Utermark, MMA SA country director, says, "Our elected board members are our eyes and ears on the ground. Working in the industry, they bring to our attention the biggest issues that impact their day-to-day business, such as brand safety, measurement, organisational structures, attribution and business impact.

"We, in turn, equip our senior board members with all the latest research and reports produced from the MMA global and regional. This helps them build capabilities internally as well as upskill their marketing teams. We would often use the insight provided to us from our board to help guide our annual research plans locally, as well as direct topics for discussions at one of our industry round tables or events," Utermark adds.

The board will also aim to ensure that relevant MMA global programmes and research studies are leveraged at a local level to benefit and aid mobile marketers to make better business decisions.

The 2019 MMA SA Board members are: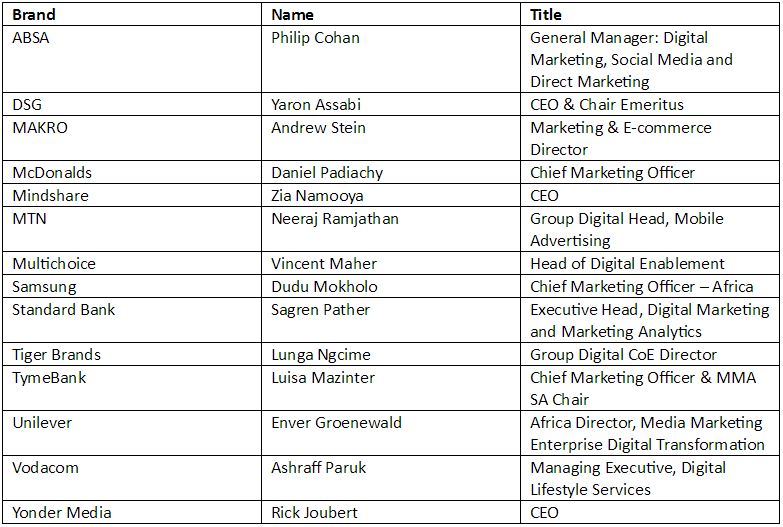 MMA chair, Luisa Mazinter, says that the new board will work very closely with the MMA to architect the future of marketing. "Our members represent the range of role players that exist within the marketing ecosystem.

"They bring their years of experience to the table to ensure that the initiatives that the MMA SA undertakes are of significant value to our members and the wider marketing community," says Mazinter.

Current projects that the new board will work on are attribution, brand safety, brand and performance, creativity and business impact, fraud, marketer organisation structure and maximising ROI, among others.

In addition to the 14 Board members, McDonalds, MTN, Standard Bank and Vodacom will form part of an executive committee as MMA SA's strategic partners for 2019.

Alongside Utermark, Mazinter and the vice-chair, they will aim to create a framework that will ensure a successful launch from South Africa into sub-Saharan Africa over the next few years. They will also be involved in all aspects of white paper releases, Smarties growth, thought leadership as well as the strategic planning and execution of local initiatives.

Utermark concludes, "The focus for the MMA SA in 2019 will be growth in terms of developing future skills as well as continuing to build the capabilities for senior executive level marketers. We welcome our 2019 board members and strategic partners to our team to help us achieve this."

For more information, visit www.mmasa.org. You can also follow MMA SA on Facebook or on Twitter.