March 19, 2013
IMImobile powers 'The Kleek' - Universal Music Group's pioneering Music Service for Africa
London, UK March 18th, 2013 – IMImobile, a leading global specialist provider of mobile services to telecom operators, enterprises and media companies, today announced it powers the Kleek, a new pioneering pan-African mobile music streaming service from Universal Music Group.
The Kleek is a mobile music service specifically designed and built for Africa and offers music lovers a catalogue of artists, tracks, genre and celebrity playlists, exclusive album previews, artist diaries, charts and other content. Universal Music Group has partnered with Samsung Electronics Africa, who will be the exclusive smartphone partner for the Kleek for the first two years.
IMImobile developed the Kleek app, which has been especially optimised for Samsung smartphones. Powered by the DaVinci Evolved Service Platform, the application delivers a tailored music experience and includes both local and international music content that will allow artists to reach a wider pan-African audience.
"With the Kleek, we are not just delivering the best local and international music, we are providing all of Africa with a unique and bespoke experience," explained Randall Abrahams, Managing Director, Universal Music South Africa and Sub-Saharan Africa. "The service will also help us focus on developing future stars from across the continent," Abrahams added.
"We are pleased that Universal Music Group chose IMImobile to develop the Kleek proposition. Our robust and scalable technology, as well as proven experience in delivering solutions in Africa, provide a platform from which we believe we can deliver the best experience to music fans in Africa," said Jay Patel, Chief Executive Officer, IMImobile.
The Kleek was officially launched on Wednesday, 13th March at the Samsung Africa Forum in Cape Town, accompanied by a live performance from acclaimed singer-songwriter Zahara.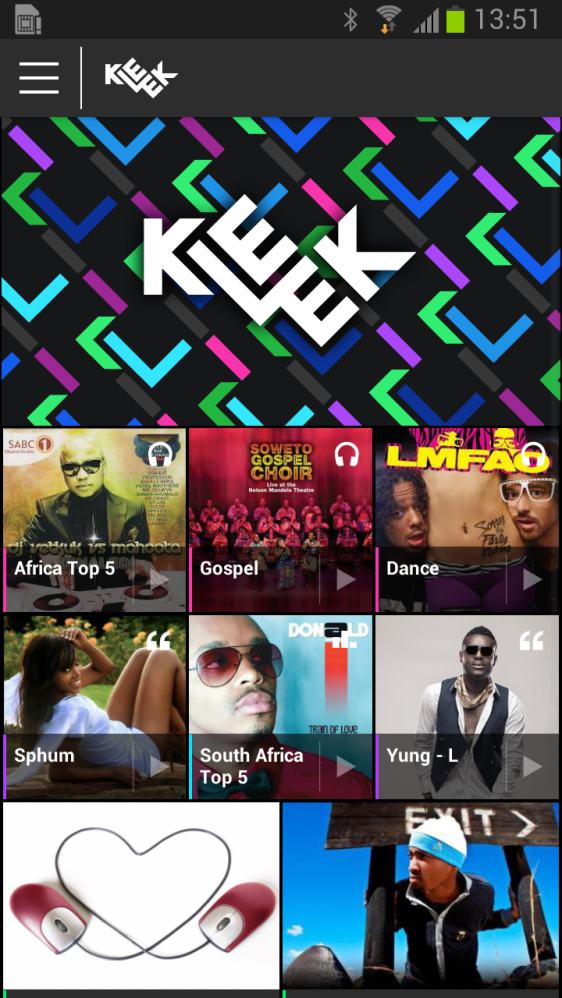 - Ends –
About IMImobile
IMImobile is a global mobile data infrastructure and solutions provider to mobile operators, enterprises and media companies with over 650 employees and a presence across Asia, Europe, America and the Middle East.
The IMImobile product and service portfolio is built on a core modular service platform called the DaVinci Evolved Service Platform hosted in the cloud. On top of the DaVinci platform sits a suite of consumer lifecycle solutions that allow operators and enterprises to drive revenue generation, self-care, customer acquisition, customer retention and audience engagement through the mobile device.
IMImobile is working with over 100 Blue Chip companies and its services reach over 1 billion subscribers in over 72 countries. IMImobile's operator customers include Aircel, Airtel, BSNL, France Telecom, Meteor, Millicom, Mobitel, MTN, Reliance, Tata, Telefonica, Tigo, Zain and Vodafone. IMImobile's media and enterprise customers include BBC, Centrica, E-ON, Ford, Mahindra & Mahindra, Star TV, Universal Music and The AA.
For more information visit
www.imimobile.com
About Universal Music Group
Universal Music Group is the global music leader, with wholly owned operations in 60 territories. Its businesses also include Universal Music Publishing Group, one of the industry's premier music publishing operations worldwide.
Universal Music Group's record labels include A&M/Octone, Angel, Astralwerks, Blue Note, Capitol Records, Decca, Def Jam Recordings, Deutsche Grammophon, Disa, Emarcy, Fonovisa, Geffen Records, Interscope Records, I.R.S., Island Records, Lost Highway Records, Machete Music, Manhattan, MCA Nashville, Mercury Nashville, Mercury Records, Motown Records, Polydor Records, Republic Records, Universal Music Latino, Verve Music Group and Virgin Records, as well as a multitude of record labels owned or distributed by its record company subsidiaries around the world. The Universal Music Group owns the most extensive catalogue of music in the industry, which includes the last 100 years of the world's most popular artists and their recordings. UMG's catalogue is marketed through two distinct divisions, Universal Music Enterprises (in the U.S.) and Universal Strategic Marketing (outside the U.S.). Universal Music Group also includes Global Digital Business, its new media and technologies division, and Bravado, its merchandising company. Universal Music Group is a fully owned subsidiary of Vivendi.
For more information visit
www.universalmusic.com