Campaign Summary
Pedigree DentaSTIX sits in a saturated, fast-growing pet treats and care market where brand loyalty is continually declining. To combat these challenges and to help consumers connect with the brand beyond the functional product benefits, Pedigree created a mobile phone accessory called "SelfieSTIX." The accessory clipped the DentaSTIX dog treat to the top of the owner's cellphone. While the treat captured the dog's attention, the owner could snap selfies with their dog. To complement SelfieSTIX, the brand created an app with photo filters designed to recognize dog faces. This campaign influenced customers' product usage habits and encouraged social sharing.
Insight, Strategy, and the Idea
Pedigree wanted customers to consider its DentaSTIX product not only as a functional dog dental care item, but as a reward for their pets. The brand also wanted to encourage customers to choose its product over other brands, drive repeat purchases, and deliver meaningful moments between dogs and their owners.
To achieve these goals, Pedigree created SelfieSTIX, a specially designed phone accessory that clips a dog treat to the user's phone. With SelfieSTIX, dogs sat at attention while owners captured selfies with their pet. The brand also created an app for users to add filters to their dogs' faces. Users could share these selfies on social media.
This campaign targeted all dog owners, especially younger owners who are already in the habit of sharing pictures of their dogs online.
Execution
SelfieSTIX was a promotional item which came attached to the product packaging. The SelfieSTIX app drove repeat purchases of DentaSTIX and promoted sharing on social media with the hashtag #PedigreeSelfieSTIX. Customers participated in a rich social community of like-minded pet owners.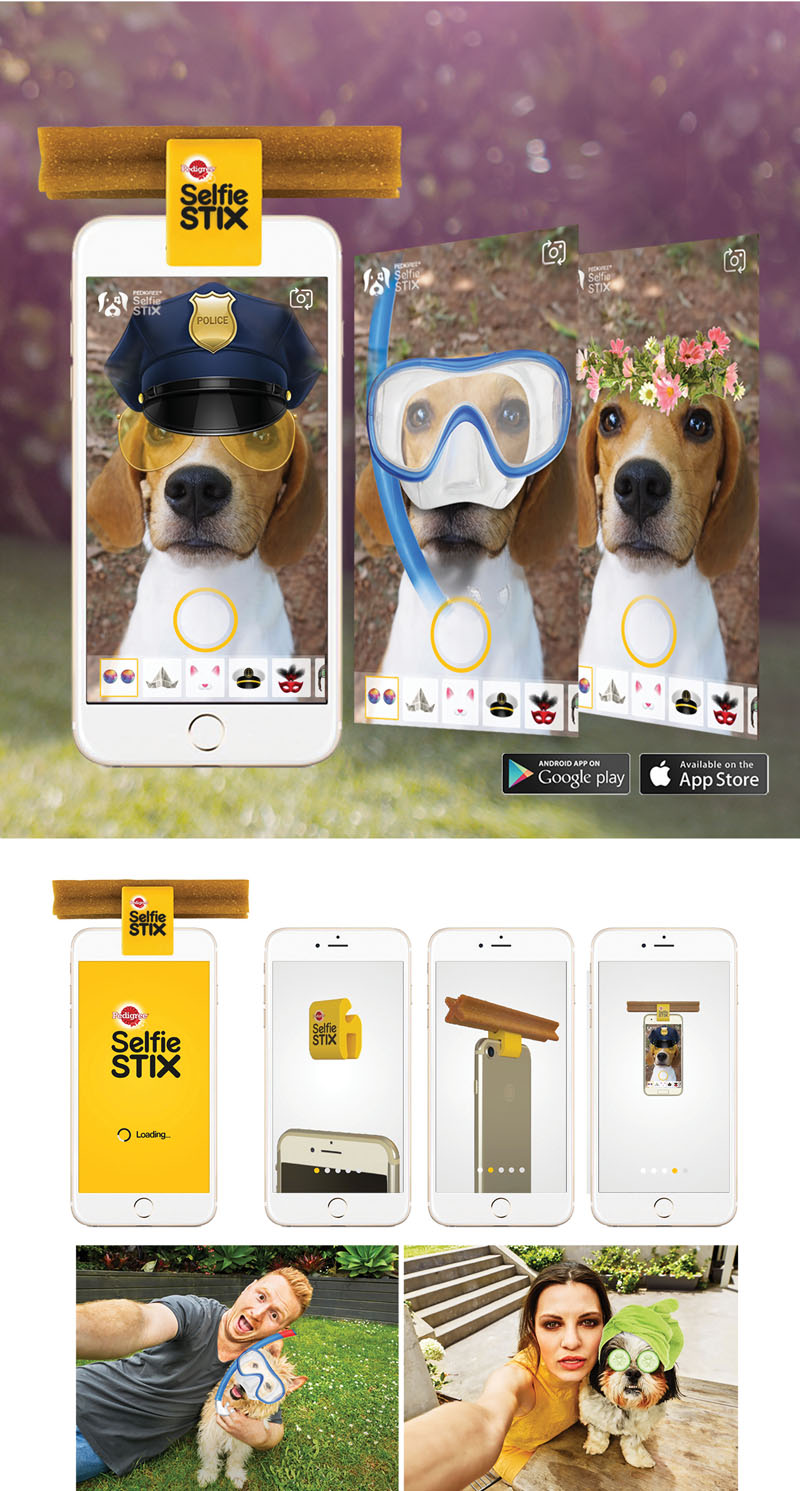 This initiative was the first time facial recognition software was used successfully on dogs. Because there is extreme variation in dogs' faces across breeds, sophisticated facial recognition technology was used to apply the photo filters appropriately. The technology worked similarly to Snapchat lenses; it applied glasses and hats, for example, to a dog's digital image.
Results
Across social platforms, the campaign generated over 2.1 million interactions. The campaign achieved 3.5 million engagements, and a 24 percent increase in sales. One-quarter of the country's dog owners redeemed SelfieSTIX.