Campaign Summary
In 2017, Bacardi signed a partnership deal with electronic music trio Major Lazer. To announce this partnership to Bacardi's music-loving millennial audience, the brand used Snapchat.
Insight, Strategy, and the Idea
Bacardi created a mobile music experience — the first music video in a Snapchat lens — a video that put fans in the starring role using augmented reality (AR). This was the official music video for the band's summer hit "Front of the Line," and for 24 hours, it was the only place to hear the song. Using low-poly 3D graphics, marketers squeezed an entire music video's worth of animation into the lens, taking users on a narrative journey unlike any Snapchat lens before.
The format for music videos has remained the same for over 40 years. Most videos are still designed for TV. They offer passive viewing experiences where the artist performs and the fan watches. To make an impact on Bacardi's millennial audience, the brand would need to use a different approach. Millennials are the "selfie generation" — who want to be part of experiences rather than watch from the sidelines.
So, Bacardi reinvented the music video on mobile to make the viewer the star — in an AR Snapchat lens. Working closely with Snapchat, marketers pushed the normal length of a lens from 10 seconds to 60 — for the first time on the platform. Being in their own music video was a highly-shareable experience for music fans.
Execution
Using low-poly 3D graphics, marketers squeezed an entire music video's worth of animation into Snapchat's 4MB file limit, creating a fun narrative around the user's face. Their face was mapped and magically came apart to reveal a portal to the tropical world of Bacardi and Major Lazer. Animation put the user on the stage with the band, flew them down a psychedelic tunnel and turned their head into a mass of speakers, all in time to the beat. Every visual element was mapped to the user's face, making every video unique to the user.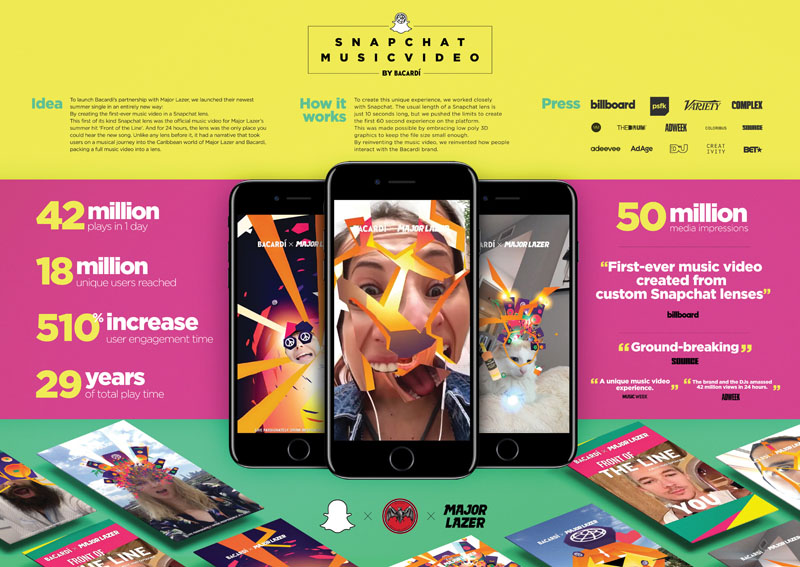 Results
The lens had over 42 million plays, 29 years' worth of playing time, and 50 million earned media impressions. Most impressively, it had a 510 percent increase over average engagement time.