Campaign Summary
General elections in Brazil were held in October 2018. More than 40,000 candidates favored by Brazil's complex justice system designed to hide acts of corruption flooded the country with electoral campaigns. ReclameAQUI, the number one consumer protection company in Brazil, decided to expand its business to citizen rights. In a country with more than 200 million smartphones, it chose to do so by turning phones into weapons against corruption.
Insight, Strategy, and the Idea
Corruption Detector is a free facial recognition app with a comprehensive database of all official records of corruption, which were previously hidden in hundreds of courts across Brazil. By simply pointing a phone at a candidate, voters could identify corrupt candidates (displayed in purple) wherever they were: TV, papers, internet, outdoors, and in person. All data organized by the app was available for reference at any time, and on election day users received an important reminder to not vote for a corrupt politician.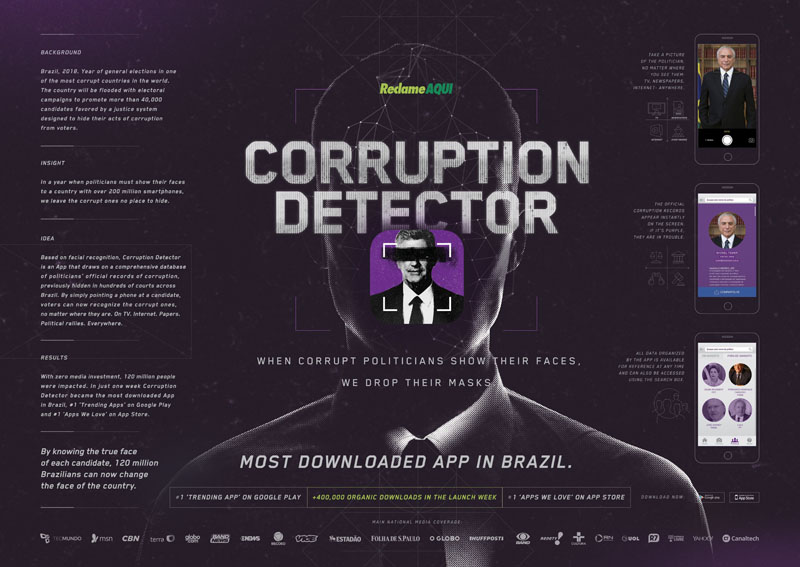 Since voting is mandatory in Brazil and nearly each citizen has a smartphone, Corruption Detector placed the hunt for dirty politicians in the hands of the people. For the first time, voters could see the true faces of corrupt politicians, and 120 million voters had the opportunity to change the face of the country.
Execution
The Corruption Detector app uses Microsoft facial recognition technology that is 98 percent accurate. To create the app's database and make it simple for anyone to understand, ReclameAQUI had to gather data from hundreds of Brazilian courts. It analyzed and selected which accusations and investigations concerned corruption or public administration fraud, and then organized the information into one simple list. It also translated legal jargon from court records into language anyone would find easy to understand. The app was launched by one of Brazil's most renowned comedians in Brasília, who stood outside Congress and took selfies with politicians – showing Brazilians how the app works.
Results
Corruption Detector became the most downloaded app in Brazil in one week, with more than 400,000 downloads. It was also featured as No. 1 "Apps We Love" at the Apple Store and No. 1 "Trending Apps" at Google Play. Corruption Detector infiltrated the media and social conversations, and more than 120 million people were reached without any media investment. 
The project became a mass topic of discussion among voters and authorities, including federal investigators at the Operation Car Wash and the Attorney General of the Republic, Rodrigo Janot. While corrupt politicians tried to sue ReclameAQUI, uncorrupt politicians used it on social networks to promote their integrity.