Campaign Summary
National Geographic premiered One Strange Rock, an event series from Darren Aronofsky and Nutopia that tells the story of Earth from the perspective of astronauts. To date only 536 brave humans have been to space, a feat that requires years of training and education, millions of dollars, and state-of-the-art technology. To promote its new show, National Geographic decided to recreate the experience of going to space without requiring viewers to leave the planet.
Insight, Strategy, and the Idea
Inspired by the innovative storytelling in One Strange Rock, National Geographic created the Astronaut Reality Helmet — a wearable immersive experience housed in a replica space helmet that brought the astronaut vantage-point to those on Earth. Projection technology inside of the helmet created an immersive viewing experience through a combination of laser projection, custom fish-eye optics, and in-built audio. The content played within the Astronaut Reality Helmet was distorted to fit the curvature of the interior screen, providing an exceptionally wide field of view. Unlike with in-market virtual reality headsets, users could freely move their head inside of the dome to look around their entire field of vision, just as an astronaut would within their helmet in space. The helmet also contained space content from One Strange Rock (OSR) and told the series' story.
National Geographic set out to surprise and reach its core target of "Everyday Explorers" by presenting them with its new technology, the Astronaut Reality Helmet. Along with National Geographic's community of explorers, this audience is on the cutting edge of technology and gadget releases and seeks the thrill of a new perspective. It shares a passion for challenging the status quo and digging deeper.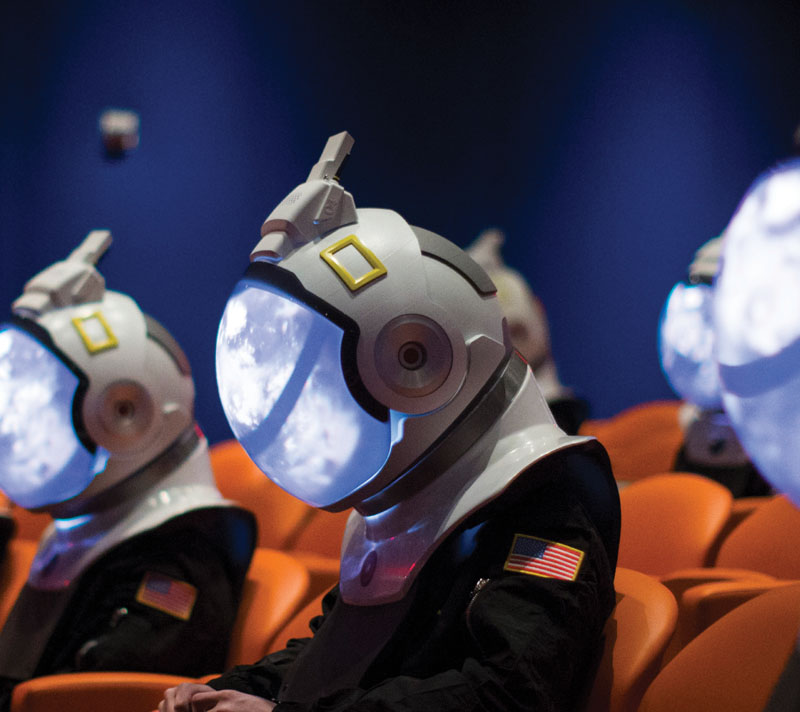 Execution
National Geographic launched its helmet by inviting leading journalists to what they presumed to be a "screening," but when they arrived they were outfitted with harnesses and told that the footage wouldn't be on a traditional screen — rather, it would be inside the helmets placed on their heads.
From there, National Geographic took 25 helmets on the road and traveled to planetariums, schools, and science centers across the country as an ambassador for science — including the New York Hall of Science, Alice Tully Hall at Lincoln Center, and the Adler Planetarium in Chicago. The helmets were available during the time the show aired.
Results
One Strange Rock's ratings for four episodes increased by 91 percent compared to the quarter average
DVR lift was higher (50 percent) than the non-fiction series average for National Geographic Channel in 2018 (31 percent)
Reach was 13 percent higher than National Geographic Channel's non-fiction average: 0.76 percent (OSR) vs. 0.67 percent (non-fiction average)
Average time spent viewing increased by four minutes: 31 minutes (OSR) vs. 27 minutes (non-fiction average)