Campaign Summary

Maybelline hired Hong Kong celebrity William Chan as its new spokesperson, and launched the "Queen" lipstick shade as an exclusive color for Chan's fans. Mobile social media was leveraged to resonate with existing fans and new consumers.
Strategy
Objective and Context:
To promote the Color Sensational lipstick collection, Maybelline New York hired Hong Kong star William Chan as its brand ambassador. Chan was already extremely popular among Maybelline's young, female target audience, and Maybelline wanted to generate new fans and business.
Target Audience:
The target audience was made up of young females between the ages of 18 and 35.
Creative Strategy:
Chinese people love celebrities, and the rate of celebrity endorsement among ads in China is the highest in the world. With the rise of social media, the interaction between celebrities and fans has become much closer and interdependent.
While researching Chan's fans, Maybelline discovered that his fan base is not only immense, but it's ultra-protective. In fact, Chan's fans call themselves his "queens" that protect Chan like a queen protects her king. In the past there were even instances when Chan's agent had to halt endorsement deals because his fans thought the brand in question wasn't a good fit.
Maybelline couldn't just hire Chan for a few commercials with the expectation that fans would willingly buy Maybelline products. The brand had to show respect for Chan, and reveal how it cared for his career as much as the "queens" do. Therefore, Maybelline renamed one of its lipstick shades "Queen," and made it the star color of the collection. Chan posed with the lipstick and released promotional photos on his social media, hinting at his endorsement.
Execution
Overall Campaign Execution:
Maybelline officially revealed Chan as a spokesperson, and then announced the "Queen" shade as the exclusive color for Chan's fans. It created an interactive page with a 40 second video starring Chan, in which fans could choose various scenarios to follow different storylines with Chan.
Although famous in China, Chan wasn't recognized internationally. To elevate Chan's stardom, Maybelline featured him in Times Square — one of the few Chinese celebrities ever. Fans could enter a draw by uploading a photo with the "Queen" shade on their lips to have the chance to be featured alongside Chan.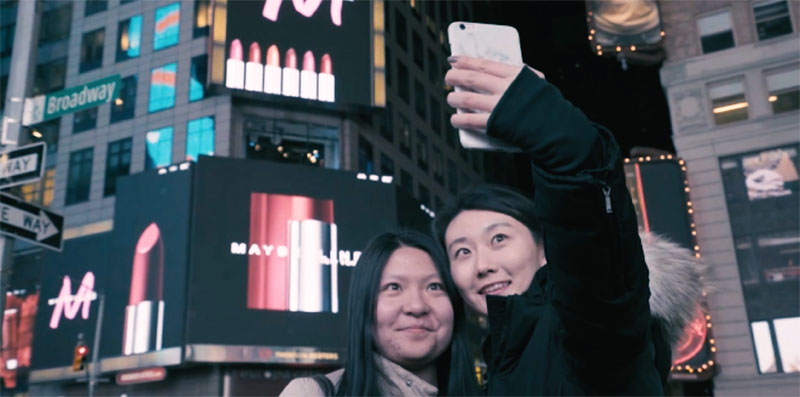 Mobile Execution:
The product was launched by Chan on mobile social media.
The interactive page on social media had a 40-second mobile video in which fans could interact with Chan.
On social media Maybelline created a thread about posting a picture together with Chan at Times Square to encourage consumers to buy the product and interact on social.
Results (including context, evaluation, and market impact)
By making Chan's fans the center of the campaign, they responded with stunning enthusiasm. The "Queen" lipstick was sold out in 20 seconds, and fans wanted the color so desperately that they wrote to Chan's agent requesting more. After restocking the lipstick, another 20,000 were sold in two hours, breaking Maybelline's e-commerce sales record.
Other results included:
Chan's new endorsement topic was viewed 390 million times on social media site Weibo, with more than one million discussions.
Chan's interactive videos were viewed nearly one million times.
30,000 fans uploaded their photos to win a chance to be featured alongside Chan on a Times Square billboard.