Campaign Summary

Coca-Cola's key objective in its "Share a Coke" campaign was to reach young adults on India's most engaging platforms in a relatable and contextual manner. By associating Coca-Cola with all "sharing moments," it gave consumers the opportunity to celebrate their relationships in more than 10 different languages.
Strategy
Objective and Context:
Coca-Cola is India's largest beverage maker and is estimated to make up around 40 percent of the country's branded beverages market. In the past 15 years, the contribution of carbonated drinks to Coca-Cola's global revenues has declined from 90 to 70 percent. By 2025–30, this figure is expected to reduce further to 50 percent. In India, however, carbonated drinks continue to account for a large portion of the brand's sales.
The launch of Share a Coke in India gave Coca-Cola the opportunity to ignite conversations with young adults and leverage top "sharing platforms." With nearly 92 percent of young consumers accessing the internet via mobile, Coca-Cola needed to identify and collaborate with partners — not only to advertise, but to fully integrate into mobile-first platforms. By partnering with platforms and mobile applications that had higher regional penetration, Coca-Cola could increase engagement and reach a broader audience.
Leveraging social listening and App Annie's data and insights, a global provider of app market data, Coca-Cola identified the following platforms as most suited for the campaign:
ShareIt: The world's fastest cross-platform transfer app, with 40 million active users, that is most popular in South India's core markets
HelloEnglish: South-East Asia's largest English learning app, which has more than 24 million young consumers learning English through its platform in 18 different Indian languages
Truecaller: India's No. 1 dialer and SMS app, with more than 250 million users
Jio: India's largest 4G, network with 215 million users and the highest penetration in certain cities
Hotstar: India's most popular OTT platform, with 202 million users
Google Assistant: A newly launched virtual assistant in India
Target Audience:
Coca-Cola needed to build more relevance with young consumers between the ages of 18 and 22. It was critical for the brand to differentiate itself and develop a sharp competitive advantage.
Creative Strategy:
Coca-Cola's global marketing campaign, Share a Coke, rebranded the traditional Coke logo. On the bottle, it replaced "Coca-Cola" with the phrase "Share a Coke with," followed by a relationship. It launched the campaign in India, sharing the campaign's principal message: "Har Rishta Bola, Mere Naam Ki Coca-Cola." Coke cans and bottles were made available with 20 special relationships and unique descriptions printed on them, such as Bae, Bro, Dude, BFF, Dad, Mom, and Daughter.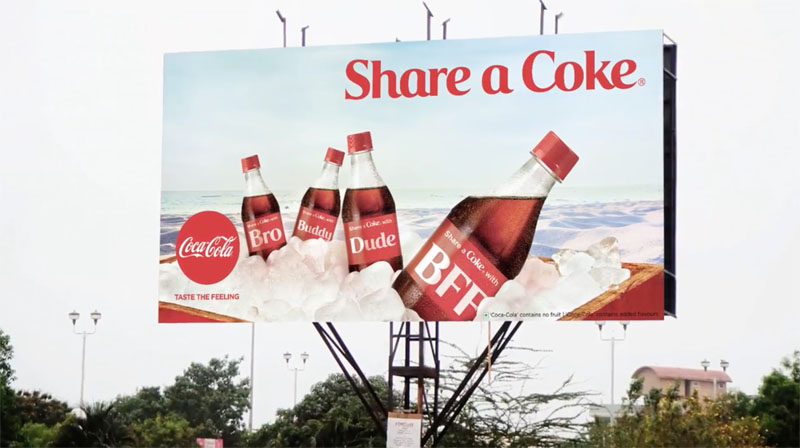 Execution
Overall Campaign Execution:
There were a number of consumer touchpoints in Coca-Cola's multi-faceted India campaign, including activations, digital and social media engagements, in-store marketing, and campaigns with Coke's brand ambassador Diljit Dosanjh. Consumers could also download virtual Share a Coke labels online at Coca-Cola India Journey's webpage.
Coca-Cola decided to rely on the power of conversations and let consumers experience the campaign directly through on-shelf products, making no prior announcements. Slowly, Coca-Cola noticed conversations on various social media platforms and consumers sharing photos of its cans online.
The campaign was rolled out on youth-centric platforms that allowed Coca-Cola to have direct conversations with its target audience. It leveraged YouTube FanFest, which celebrates self-expression and allows brands to connect with today's youth, and other platforms such as television. At Mumbai's YouTube FanFest, Coca-Cola created innovative and interactive activities to engage with consumers. Giant screens displayed Coke bottles where people could put names and messages on the bottle. There was also a screen with Dosanjh, where people could pose and take photos with him for a Coke-branded selfie wall.
Mobile Execution:
The purpose of the execution was to convince India's consumers to Share a Coke with their loved ones. Coca-Cola began with ShareIT's app, which allows users to share files, and it created a branded customized gallery that gave users the opportunity to share customizable Share a Coke messages.
It leveraged the HelloEnglish app to distribute Share a Coke messages in 10 different languages. Message customization was part of learners' practice session, tests, and course material. The app also hosted a Share a Coke-powered chatbot that taught users naming relationships and how to craft special messages for their loved ones. Mother's Day attracted the highest number of engagements during the campaign.
Coca-Cola partnered with Truecaller, a 250-million-user app, to create India's first flash innovation on its messaging platform. It enabled users to send Share a Coke messages after they concluded a call. It also leveraged India's largest 4G network, Jio, to send out Share a Coke notifications to all of its users. The notifications brought the user to its chat platform and allowed them to share messages.
During Indian Premier League, India's biggest sporting event, Share a Coke became the first brand to integrate within the live broadcast as an emoji that users could share while watching the game.
Additionally, to capitalize on the growing popularity of Google Assistant in India, it collaborated with Google to allow users to share Share a Coke messages using voice command.
Results (including context, evaluation, and market impact)
Results for each platform:
Hotstar Emoji integration: 230 billion impressions and 131 million clicks
ShareIT: Seven million impressions and 186,000 clicks on the gallery
HelloEnglish: 1.3 million engaged users, 158,000 messages shared, and 32 million impressions
Truecaller: Engagement rate more than 3 percent; 1,500 messages shared
Jio: 65 million impressions
Google Assistant: 3,000 interactions; more than 2,000 messages shared in one week
Total campaign reach: 430,000
Other results included:
Increase of 0.31 BLS (Brand Love Score) in core markets
Increase of 0.51 BLS by teens (nine times more than the previous period)
Among teen cohorts in Delhi, BLS increased by 0.72 to reach an all-time high of 4.31
Incidence moved up by average 5.5 percent in core markets
Volume increase of 27 percent (increased by 1 percent)
Transactions increase of 31 percent (increased by 1 percent)
Market share of 19.6 percent (increased by 0.2 percent)