Campaign Summary

When the Kroger Co. revealed its new pick-up and delivery grocery services, marketers wanted to let the brand's customers know with "hyper-personalized" communication. With this in mind, its marketing focused on creating highly relevant experiences to re-engage shoppers and to "surprise and delight" them in-store and across all digital channels. Keeping shoppers engaged with relevant content was crucial for promoting loyalty.
Strategy
Objective and Context:
Almost all communication between grocery services and consumers is in the form of email messages. In fact, some grocery companies focus only on email and have never sent SMS or push messages to their customers. Kroger's marketing team knew that engaging with consumers around their grocery delivery needs meant connecting with them wherever they were — especially their mobile devices. For Kroger, the advantages of mobile were efficiency and timeliness, both elements that the company knew would improve a delivery experience.
Target Audience:
Kroger's marketing campaign targeted the brand's digital customers. To personalize each communication, marketers made it a point to learn customers' preferred ways to shop (in-store, pick up, or delivery), what they shopped for, how they interacted with the brand (app, SMS, push, email, web), and when.
Creative Strategy:
When Kroger launched its curbside pickup and grocery-to-home store features, it knew it needed a channel that could keep up with its on-the-go shoppers. Mobile was the perfect way to engage and notify them in real time.
Kroger's marketing team understood that not every shopper had downloaded Kroger's mobile app, so they used both push notifications to target its app users and SMS messages. These messages indicated when orders were ready or in process. Additionally, for customers who preferred email, this information was delivered to their inboxes.
Kroger took this approach a step further and continued to engage with its users by creating SMS and email notifications for the "25 Days of Offers" campaign leading up to the holiday season in 2017. The campaign provided a new coupon every day to consumers through mobile communications enabled by Salesforce Marketing Cloud.
Execution
Overall Campaign Execution:
Kroger understood that its shoppers each had their own channel preferences and engaged with brands in different ways. That's why the brand leveraged its own first-party data from email engagements to better target and engage consumers across all channels, including mobile.
Mobile Execution:
The Kroger marketing team used email to test and learn which offers resonated the most with consumers and what supplementary content was most engaging, such as recipes.
From there, the team created re-engagement programs using email open rates to identify lapsed customers. The email marketing program then included relevant messaging, such as "We miss you," "We want you back," and "You have been unsubscribed" as part of a cross-channel marketing program that employed both mobile and email.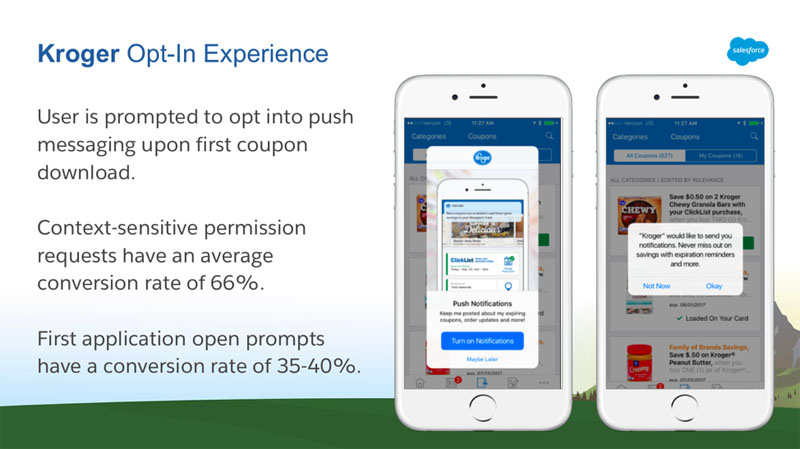 Results (including context, evaluation, and market impact)
Combined email and SMS engagement increased while Kroger's campaign enjoyed a 60 percent open rate and a 40 percent click rate. In addition, Kroger saw an uptick in sales and the creation of new digital accounts. This was the company's most successful holiday mobile program to date.
Consumer engagement during the holidays and the use of Kroger's delivery services increased, which resulted in:
Year-over-year growth in both email volume and engagement
Re-engagement of 10 to 15 percent of customers