Campaign Summary

By the time MGM was ready to launch its playMGM online gambling app in New Jersey, the market had already become oversaturated and commoditized. To compete with other apps that had been operational for years already, MGM developed a campaign that leveraged its status as a Las Vegas icon to get consumers excited to "feel the thrill of Vegas" through the app. 
Strategy
Objective and Context:
MGM acquired the Borgata casino in early 2017 partly to bring the brand's online gambling platform, playMGM, to the state of New Jersey. But the market was already so oversaturated with online gambling apps, most offering nearly identical in-app experiences, that by the time playMGM was ready to launch in New Jersey, the category was already experiencing double-digit declines. To cut through the sea of sameness, MGM needed a brand-heavy campaign aimed at engaging users in the long term, while at the same time avoiding cannibalizing the existing Borgata app. The campaign's success was measured in downloads, registrations, and account deposits.
Target Audience:
MGM defined its target audience primarily by psychographics. It first determined the set of behaviors most closely tied to online gambling (thrill-seeking, digital proficiency, prone to periodic downtimes) and then identified four new target segments: "Deal Hunters," "Finance Buffs," "Digital Adventurers," and "Online Gamers." The brand overlaid app consumption data to find the optimal time and place to engage consumers.
Creative Strategy:
MGM needed to bring its iconic Las Vegas brand to New Jersey, and to accomplish this, broke the campaign's creative messaging into four levels:
Category Awareness: raising awareness that online gambling is legal in New Jersey
Brand Awareness: raising awareness of the playMGM app
Contextual Messaging: speaking to Jersey and nodding to the fact that this is available exclusively in-state
Hard Acquisition: pushing the promotions and offers that are table-stakes in the category
The brand ran a fully-integrated media strategy, leveraging cable, network TV, OOH, radio, train, digital, paid and organic social, interactive mobile, sponsored editorial, bus wraps, and even airplane banners. Ad placement was focused on "downtime areas," such as train and ferry stations where people are already on their phones. This allowed the brand to not just speak about the thrill of Vegas but to do it in a way that made sense for this commuter-heavy market. The major challenge was ensuring campaign scale, as targeting was limited to New Jersey and gambling regulations restricted distribution.
Execution
Overall Campaign Execution:
The campaign, called "Vegas Is Here," brought the thrill of Vegas to New Jersey. Every touchpoint of the campaign had interactive elements tailored to their location. Digital tablets in airports let people play a hand of poker while waiting to board their next flight. Digital display ads featured poker challenges, like picking the "bluff" out of a lineup of virtual players. Interstitial mobile ads were delivered to consumers while they were already gaming and offered them rewards for spinning a virtual roulette wheel. Banner ads and social posts dynamically generated a version of the famous Viva Las Vegas tagline for the user's specific hometown (e.g., Viva Las Newark, Viva Las Trenton, Viva Las Redwood).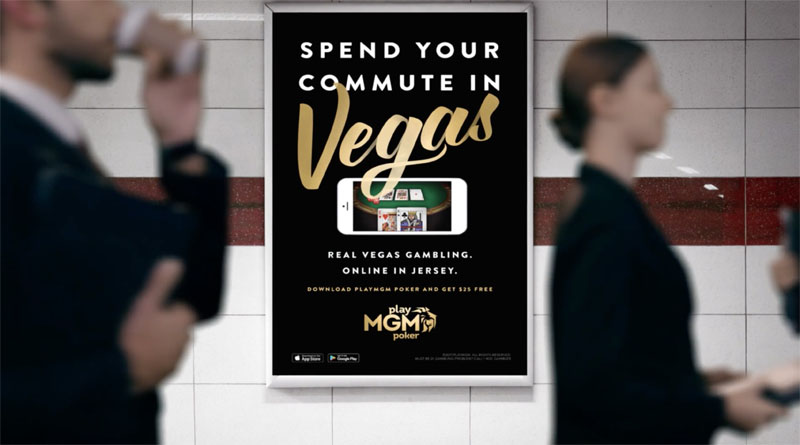 Mobile Execution:
With roughly a quarter of the campaign's budget, mobile activation spanned paid social, search, in-app, programmatic, native, sponsorships, audio streaming, video, and interactive rich media gaming units.
This enabled MGM to target users where they were active, employing a digital-first approach in a category that heavily prioritizes TV advertising. Most importantly, it allowed people to actually play a game instead of just hear about gaming.
The brand also integrated its above-the-line efforts with its mobile buys, allowed it to target people near OOH displays and push mobile banners to them, increasing frequency and pushing them farther down the funnel.
Results (including context, evaluation, and market impact)
Beefeater's 10-day experience:
Attracted more than 50,000 attendees
Inspired 6,500 pieces of user-generated content
Featured 200 media appearances