Campaign Summary

With a goal of engaging customers and increasing sales at its Shoprite and Checkers stores, Shoprite gave away three cars a day in a highly popular sweepstakes. Entries could be submitted via call or text message, which was important because most customers in South Africa do not have smartphones. The brand received over 31 million entries from over three million unique shoppers. An added benefit of the program was that shoppers' purchase data could be collected and tied back to their cell numbers for tracking and lead-generation purposes.
Strategy
Objective and Context:
South African grocery retailer Shoprite wanted to reward its customers, so the brand gave away three cars per day in a sweepstakes. The contest ran at the brand's Shoprite and Checkers stores with the goals of driving customers to physical store locations, increasing sales, and increasing repeat purchases.

The brand had run a similar contest before but had used a paper-based entry system. Shoprite was challenged to develop a mobile entry mechanism that would be seamless for the retailer and for participating consumers.
Another challenge was that smartphone penetration in South Africa is only 50 percent, so the mobile contest entry mechanism would need to be accessible across all types of cell phones, not just smartphones.
Target Audience:
Shoprite used the Living Standards Measure (LSM) to help define its target audience. LSM is the most widely used segmentation tool in South Africa. It takes into account variables including in-home amenities, access to technology and utilities, and home type.
Though each store had a defined target, it is important to note that shoppers tend to purchase their necessities at the store most convenient to them, and with over 800 stores throughout South Africa, Shoprite and Checkers are destinations for all LSM groups.
Creative Strategy:
Knowing that the majority of Shoprite and Checkers shoppers don't have access to the internet on their cell phones, it was important to create an accessible way for customers to enter the sweepstakes to avoid alienating any potential entrants. The seamless mobile entry mechanism at the point of sale made the already attractive sweepstakes even more enticing.
Execution
Overall Campaign Execution:
Shoprite used in-store displays, above-the-line tactics, and digital media to generate campaign awareness. The digital media plan included social, programmatic display, and search advertising.
The mobile-based entry method allowed Shoprite to collect the phone numbers of its shoppers along with their purchase data. The data was helpful for lead-generation purposes. Access to shoppers' mobile phone numbers allowed Shoprite to target customers on Facebook with increased accuracy.
Shoprite also used data to build a lookalike audience and targeted consumers with similar attributes to actual shoppers.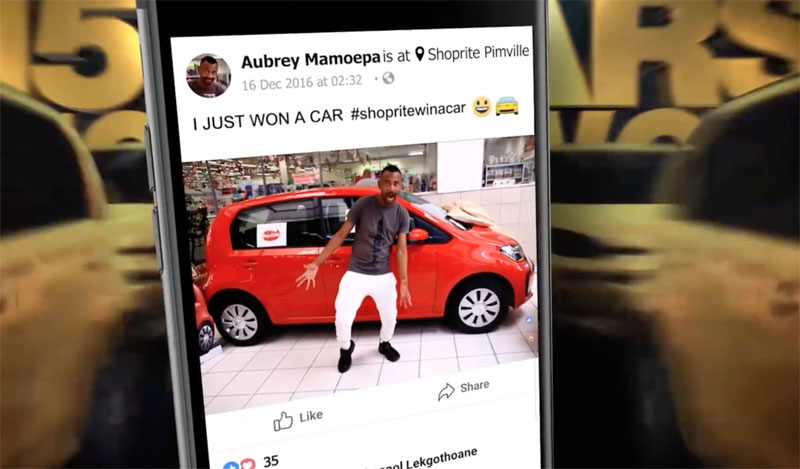 Mobile Execution:
To enter the contest, consumers who spent R100 or more at Shoprite or Checkers would receive a unique code printed on their receipt. The code could be entered via mobile device for the chance to win. Three winners were automatically and randomly selected each day.
Via mobile, shoppers were also able to track their number of valid entries and pending entries. Customers did not have to download an app to participate because the mobile entry system worked through the basic call and text functionality on all phones.
Results (including context, evaluation, and market impact)
The campaign received more than 31 million valid entries from over three million unique shoppers.
As a result of the campaign Shoprite now has a large collection of consumer data. This information can be used for lead generation and targeting purposes in future campaigns.