Campaign Summary

AT&T was looking to drive awareness around its B2B offerings, and position the brand as more than just a telecommunications provider. It worked with The Washington Post to develop an immersive "blueprint" for the future of business. The campaign demonstrated how AT&T gave businesses the agility they needed to solve tough challenges, including decentralized delivery services that demonstrated the power of connected networks, the effect of growing networks and effective data strategies, and a 360-degree immersive experience showing what the future of the manufacturing, transportation, and retail sectors would look like. By showcasing AT&T's tools in action, the brand could highlight its relevance for businesses, and drive deep engagement with its target audience.
Strategy
Objective and Context:
While the AT&T brand is well known to consumers, few realize that it's also a substantial enterprise technology provider, with B2B offerings like advanced networking, cybersecurity, and IoT solutions. The brand wanted to increase awareness of its positioning as a business transformation partner, and focused on lifts in favorability and consideration as KPIs.  
Target Audience:
AT&T targeted business development managers and technology development managers at Fortune 500 companies. One of the big challenges with reaching this group is that they're a niche segment, but they're also inundated with brand messaging.
Creative Strategy:
The brand partnered with The Washington Post to create interactive, mobile-first content reflecting three themes: operational effectiveness, cybersecurity, and workforce empowerment. Instead of focusing on the brand, AT&T created compelling narratives around how customers were using its products and services.
Execution
Overall Campaign Execution:
AT&T created in-depth content that showed its products in action, and illustrated how they could help a wide range of businesses.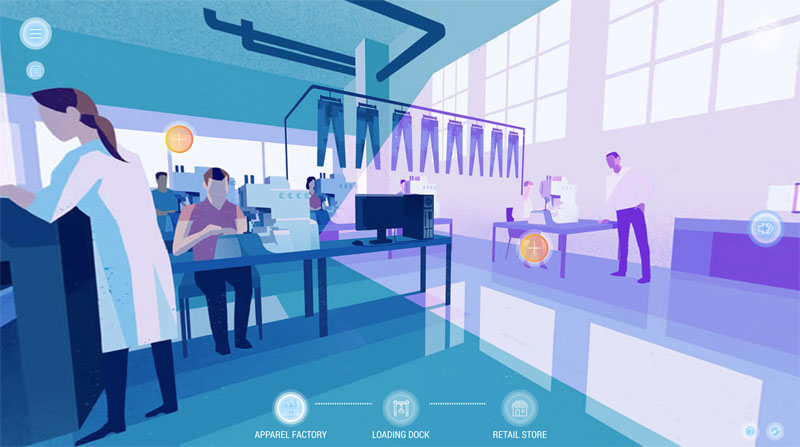 Mobile Execution:
The campaign was designed from the outset to thrive on mobile, and the brand worked with mobile syndicators to aggregate distribute content to hyper-targeted audiences based on their business needs — all via mobile. The brand blended 360-degree illustrations with "snackable" educational information on its impact on the future of business.
Results (including context, evaluation, and market impact)
The campaign drove more than 40,000 engagements with the Washington Post native content, with an engagement rate of 35 percent, which was several times higher than the average for AT&T's previous campaigns. Brand favorability increased by 61 percent, and 70 percent of survey respondents said they would take action after reading content from the campaign. Most importantly, it created tangible business opportunities for the brand, as 35 percent of respondents said they would seek more information on AT&T Business and/or visit AT&T's website.