Campaign Summary

IBM wanted to leverage Watson's machine learning and natural language capabilities to create two-way conversations within ad units that would allow consumers to ask questions about products and services, and receive accurate answers from the AI platform. The brand used its newest acquisition, The Weather Company, as testing ground for the campaign.
Strategy
Objective and Context:
Marketers have long sought more personalized interactions with consumers. Watson Ads are a cognitive ad format that allows marketers to have a personalized, one-to-one conversations with their audiences at scale. When viewing a Watson Ad, a consumer can ask Watson questions via voice or text about the product or offering, and Watson's machine learning and natural language capabilities allow it to provide accurate responses.
IBM's goals were to test viability of Watson Ads, overcome the challenge of teaching consumers how to engage with a cognitive, AI-fueled experience, increase consumer engagement with digital display advertising, and devise a way to utilize media to provide more meaningful insights on consumer behavior, creative, and product preferences. In addition to client insights, the brand wanted to derive development, engagement, and advancement learnings against the ad unit and consumer experience itself, so that the cognitive ads could improve with each successive engagement.
Target Audience:
IBM and The Weather Company's target audience was marketers, and in turn, their target consumers.
Creative Strategy:
IBM targeted The Weather Channel website and mobile app visitors to educate them on the product and train them to be on the lookout for the "Watson Ads" logo in the creative. The cognitive ads featured a blinking "Ask Watson" button to draw users in, providing increased legibility on mobile web and The Weather Channel app, and expanded real estate on desktop web.
Execution
Overall Campaign Execution:
In order to launch a campaign, the Watson Ads unit is trained with a body of knowledge and learns over time by ingesting data from interactive sessions until it responds with what the advertiser is looking for. Watson works by building hypotheses and testing them to advise people and augment decision-making. Two of Watson's most consumer-accessible application programming interfaces were used for the pilot: IBM Chef Watson and Watson Conversation. Consumers were comfortable looking up recipes and having conversations online, making interaction with the Watson Ads more likely.

Mobile Execution:
With a tap of the "Ask Watson" button, consumers were encouraged to engage with Watson Ads through familiar mobile behaviors like texting and chatting. Consumers could ask Watson questions about the product or offering, and, in a full-screen conversation within a mobile ad unit, Watson's machine learning and natural language capabilities enabled it to provide accurate responses.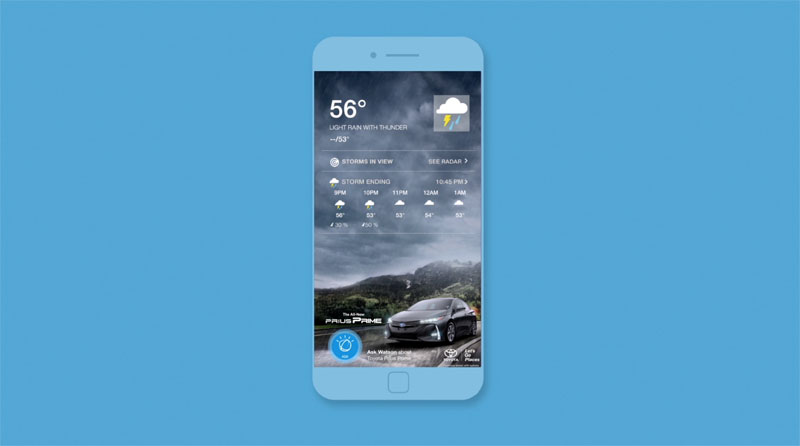 Results (including context, evaluation, and market impact)
IBM achieved its goal of driving deeper engagement within the ad unit, both in terms of time spent, and in-unit actions taken.