Campaign Summary

To launch its new hybrid/electric car, the Kia Niro, Kia Motors America developed a VR showroom for the mobile web. As customers engaged with the "build and price" section of the brand's website, they were given the option to be transported to a VR dealership where they could "step into the driver's seat" and experience the Kia Niro.
Strategy
Objective and Context:
Purchasing a car is the second largest investment decision people make. Today's consumers spend months researching every minute detail of every car on their short lists. But, ultimately, unless they can sit in the cars, it's hard to make purchase decisions. Flat images in magazines and on websites don't give consumers the perspective they're looking for. This creates a challenge if a brand launches a car that isn't widely available on showroom floors.
Kia wanted to tackle its distribution issues by enabling consumers to experience a car they couldn't actually sit in. It also wanted to help consumers understand the benefits of a hybrid-electric car, appreciate the Niro's beautiful design aesthetics, position its brand as a leader in innovative consumer engagement and ultimately deliver cost-effective sales enquiries/leads to sell 60,000 cars.
Target Audience:
Kia's target audience was defined as progressive and technology-savvy new vehicle shoppers who were searching for a hybrid, crossover, or small SUV.
Creative Strategy:
Over the years, a few auto manufacturers have made attempts to create VR experiences for their cars, but these experiences were mostly designed to showcase the models to their dealers and press contacts rather than to customers. These experiences were very clunky and did not provide valuable user experiences. Also, consumers would need to buy VR viewers, which typically cost at least $100, and download an app before they could look around the car as if they were sitting in the driver's seat. The reality was that very few people purchased VR headsets. Downloading an app was another barrier, and these experiences provided low user engagement due to their static and one-dimensional nature.
To meet its objectives, Kia used this emerging technology in a new way. It created a showroom where anyone in the U.S. could experience the Kia Niro. No app download was required (it was all created in mobile web), and it was compatible with all popular VR headsets. In fact, Kia sent people branded Google Cardboard VR viewers if they didn't already have a viewer.
As customers engaged with the "build and price" section of the website, they had the option to be transported to a virtual reality dealership. Interested shoppers could "step inside" to see the Niro in all its high-definition glory. They could also change the colors, spin the car, look at it from above, or just sit inside to get a feel for what the Kia Niro was really like.
Execution
Overall Campaign Execution:
The Kia Niro VR Project was entirely mobile-focused. Although viewable in 2D on desktop computers, the virtual dealership experience was facilitated exclusively through smartphones. The overall campaign budget was $280,000, and 90 percent of it was focused on the smartphone VR element. Kia did not run any paid media to support the execution; it was 100 percent organic.
Mobile Execution:
Kia didn't want to attract non-qualified customers who might only be interested in the VR experience or the chance to receive a free Google Cardboard headset. The VR experience was embedded within the "build and price" section of the mobile website. The brand also required customers' full contact details and profile, such as name, phone number, email, and mailing address. Kia didn't promote this feature using a traditional media spend. Instead it utilized owned assets, such as electronic direct mail.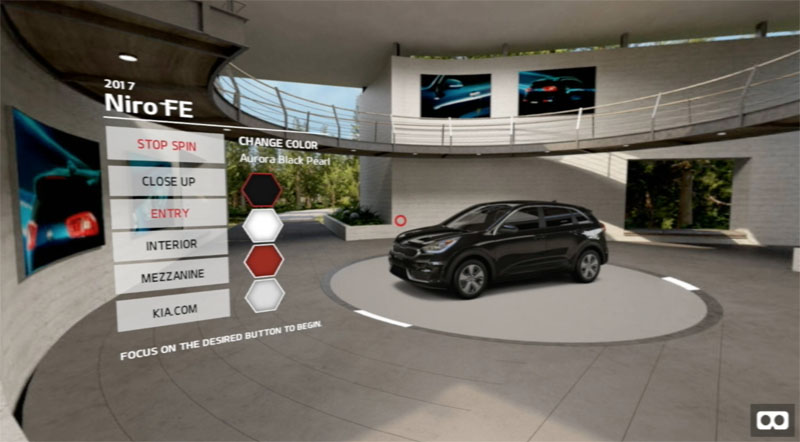 Results (including context, evaluation, and market impact)
Kia had a 3.7 percent share of overall U.S. car sales, but when it came to hybrid/electric cars the brand made up only 1 percent of the segment. The hybrid/electric segment was growing between 30 and 51 percent each month, representing an important future market for auto manufacturers and an opportunity to use this "halo" across all of the portfolio to leverage association with brand qualities, such as innovation, environmentalism, and efficiency.
Using the analytics platform Apptopia, Kia saw that other auto VR experiences on the App Store had fewer than 10,000 downloads, one-time use, less than two minutes of engagement, and negative user ratings. Kia launched in March 2017 targeting 20,000 unique users and making 10,000 Google Cardboard requests (sent only to pre-qualified customers) by the end of 2017.
As of May 31, over 82,000 people had experienced the VR, and Kia had received 23,000 submissions. Shoppers who engaged with the Niro VR spent 68 percent more time (totaling seven minutes) and visited 7.5 additional pages on Kia.com. This was achieved with no media dollars spent. Kia's cost per lead came in at $12.17 per qualified customer, which was 32 percent lower than previous campaign benchmarks. These leads converted to sales at a higher rate than other digital activities. Kia's fluid, web-based, and frictionless VR experience set the benchmark for the auto industry and has been publicly lauded by competitors and the media. Other auto brands have also followed Kia's lead to develop VR showroom experiences as part of their own marketing approaches.