Campaign Summary

Coronado Brewing Co. was looking for experiential ways to differentiate itself, increase brand awareness among beer drinkers, and get millennials engaged with its brand. As one of San Diego County's first craft breweries, Coronado Brewing already had a reputation for making West Coast-style ales and lagers. But that reputation was only taking the brand so far in a marketplace teeming with more than 130 local breweries.
Coronado Brewing also competes with national brands, since its products are available in 16 states. It's competing with both macro and craft beer brands for limited shelf space in grocery and convenience store locations. In fact, more than 3,900 new beer products hit the U.S. market in 2016.
The brand used an end-to-end mobile marketing solution to create a connection between the physical and digital worlds. To promote its new craft beer, CoastWise Session IPA, "smart" beverage coasters were developed to interact with users' mobile phones, engaging them and collecting data at the same time.
Strategy
Objective and Context:
Rising above the noise in this saturated environment is tough, given the million-dollar marketing budgets of larger brands. And unless beer drinkers are buying or tasting beers at one of Coronado Brewing's three locations, the company is far from the point of sale, which makes it more difficult to directly influence consumers and share its story with them.
To extend its brand beyond bars, Coronado Brewing Co. hired the agency Thinfilm to implement a different kind of integrated mobile marketing solution. Thinfilm embeds NFC (near-field communication) technology in packages, labels, and merchandise product tags. When consumers tapped the product tag with their smartphones they would see a customized landing page, a video, or another digital asset provided by the brand.
This end-to-end mobile marketing solution provided a connection between the physical and digital worlds. To analyze success, a completely new set of metrics were pioneered to complement traditional digital metrics, such as CTR and conversion rates. "Tap rates" were instituted as a basic unit of measurement. The tap rate was the number of unique daily taps (from unique smartphones) to an individual product tag. Conversion rates for this study were measured by visits to the web site that were initiated by consumer taps. Other key performance areas used to measure against objectives were website visits initiated by the campaign and the overall increase in mobile traffic.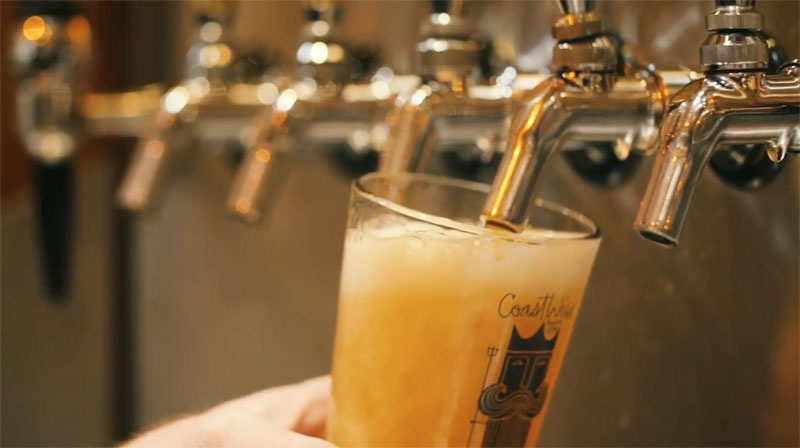 Target Audience:
Coronado Brewing's primary target audience was millennial craft beer drinkers. Many purchasers of craft beer appreciate a compelling brand story. They identify with brands that are independent and local or that align with their core values, including authenticity, community focus, and sustainability. This demographic is also highly receptive to mobile engagement.
Craft beer connoisseurs tend to be "promiscuous" consumers, meaning they try new products all the time and don't necessarily remain loyal to one particular brand. As for the millennial demographic, data shows that on average individuals in this segment try 5.1 different brands per month. They also tend to use search engines, social platforms, online marketplaces, and crowd-sourced review sites to help make buying decisions, often relying on search engine algorithms and websites like BeerAdvocate and Untappd to suggest their next purchase.
According to XenoPsi, 74 percent of craft beer drinkers use mobile technology to research a beer purchase before going to the store, while 60.2 percent of craft beer purchasers use their smartphones in-store at the point of sale. An even higher percentage (62.8 percent) base their decision on messaging they read on the physical bottles/cans or the packaging. Given these characteristics, the millennial demographic was an ideal target for a physical-to-digital marketing campaign like this.
Creative Strategy:
Coronado Brewing deployed the Thinfilm mobile marketing solution in a test-and-learn fashion as part of a new product launch. The brewery had crafted a new beer, CoastWise Session IPA, in collaboration with the Surfrider Foundation, an environmental organization dedicated to the protection and preservation of the world's oceans and beaches. The product launch fit within a broader collaboration, which focused on Earth Day and included week-long beach cleanups by teams of volunteers. The campaign contained elements of cause marketing, with a portion of the proceeds from CoastWise Session IPA sales directly benefiting the Surfrider Foundation.
To share the story of its new beer and Earth Day collaboration, Coronado Brewing used beverage coasters to implement its first mobile marketing campaign. These "smart" coasters, which were distributed exclusively at Coronado Brewing locations, featured Thinfilm SpeedTap tags. They were designed with CoastWise Session IPA branding and a graphic instructing consumers to "Tap Here" with their mobile phones. When tapped, the NFC tags interacted with a consumer's smartphone, instantly generating a custom landing page describing the new CoastWise Session IPA and Coronado Brewing's relationship with the Surfrider Foundation. Visitors were able to view videos, learn about beach cleanup events in their area, and find out how to purchase related merchandise to show off their love of the coast.
Execution
Overall Campaign Execution:
The advantages of implementing the smart coaster campaign were its relatively low cost and overall ease of implementation. Custom coasters were designed that reflected CoastWise Session IPA branding. Each coaster contained a Thinfilm SpeedTap NFC tag, and each tag had its own unique ID. Tag information was loaded into the CNECT platform, and Coronado Brewing was able to easily program a URL redirect for the coasters through a special dashboard.
Support for NFC functionality rapid spread to all mobile platforms, including payments and other applications. This technology engaged the mobile-first consumer with the simple tap of a phone to a coaster. The physical coasters served as their own media channel no matter where the consumer was. The primary and/or secondary product packaging on cans, bottles, and boxes didn't have to be altered.
Mobile Execution:
The NFC-enabled smart coasters were distributed in batches over the course of a month to allow the Coronado Brewing Co. and Thinfilm to measure the data over time for the best results. The smart coasters were delivered in 20 boxes containing 2,500 coasters each. Each coaster had a one-week lifecycle and each box had a 35-day average lifecycle.
Unlike other mobile channels, this end-to-end mobile marketing solution combined IoT technology in the form of a smart coaster, which was supported by a cloud-based management portal. And, unlike QR codes or visual recognition techniques, no app was required. Each coaster had a unique identity so that Coronado was able to gather valuable tapping data that would help it improve the overall customer experience for its next campaign.
Results (including context, evaluation, and market impact)
Compared to click-through rates of 0.2 percent for its existing advertising, Coronado Brewing saw a substantial increase in consumer engagement based on coaster tap rates.
The brewery experienced a 92 percent lift in mobile traffic to the CoastWise Session IPA landing page.
The "tap rate per box" was found to be 2.24 percent at the best-performing location.
The average tap rate for boxes with at least 35 days in the market was measured at 1.65 percent.