Campaign Summary

For the launch of the Range Rover Velar, Land Rover sought to increase pre-orders of the new vehicle. However, because the vehicle hadn't hit dealer lots yet, there was no physical vehicle for consumers to experience. Range Rover used augmented reality technology to allow users to explore its new vehicle without having to physically test-drive it.
Strategy
Objective and Context:
For the launch of the Range Rover Velar vehicle, Land Rover sought to increase pre-orders of the new vehicle as the primary KPI of the media campaign. With pre-orders for the Velar requiring a $1,000 down payment, this objective was complicated because there wasn't a vehicle available for consumers to experience.
This phase of the campaign was particularly crucial to build enough excitement to inspire consumers to pre-order the vehicle. Flat banner or video advertising was not going to allow the brand to achieve the pre-order goal or truly depict the revolutionary design. Land Rover needed to find a simple and efficient way for consumers to digitally experience and engage with the Velar and ultimately place a pre-order.
Target Audience:
Range Rover Velar's target audience are affluent individuals in their mid-40s, with affinities for technology and style-related interests. They're status-driven and visually influenced. The target enjoys the rewards that come from their hard work, including treating themselves to luxury items such as vehicles.
Creative Strategy:
Leveraging new technology was crucial to providing consumers with a tangible behind-the-wheel experience. Land Rover began brainstorming how it could use augmented reality (AR) in its creative ad formats to scale the idea of experience on devices where consumers spend most of their time: mobile.
Partnering with Blippar, an AR creative tech company, Land Rover built a first-to-market augmented reality test drive that was scaled out with its programmatic partners using an audience-first, data-driven distribution strategy to ensure it was reaching the right audience for Land Rover. Users were exposed to a rich media mobile banner with a call to action to take a test drive. Upon clicking the banner, the phone screen was transformed in to a first-person virtual view from inside the Velar vehicle. The AR ad unit showed a detailed view of the car's interior, allowing users to explore the Velar without having to go in to a dealership but giving them the same test-drive experience to encourage pre-orders.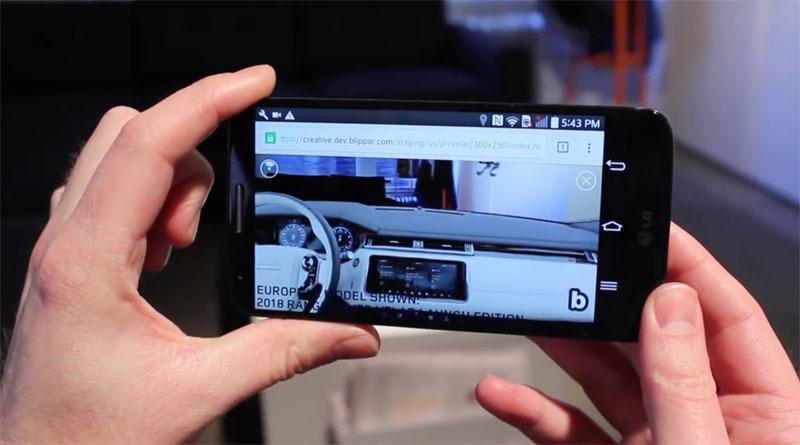 Finally, the creative was adapted during different phases of the campaign to retarget users who engaged to send them to dealerships if they missed the pre-order period. Global markets outside the U.S. are adopting the technology given the success of the campaign.
Execution
Overall Campaign Execution:
Land Rover is a purpose-built brand, and with this experience it was able to provide the same utility to potential consumers that its vehicles provide on a daily basis. The execution brought a physical experience into the virtual world, with the added benefit of giving consumers the ability to test-drive on their terms, without headsets, downloading an app, or going to a dealership. Land Rover dedicated approximately 13 percent of the overall display budget for the launch campaign to the AR experience.
Mobile Execution:
Mobile was a core component of this campaign. With U.S. adults spending more than three hours every day on mobile devices, it was imperative that Land Rover leverage a mobile-first approach. Creating a custom immersive augmented reality experience for in-market consumers allowed potential consumers to see themselves in the Range Rover Velar with a device they use every day. Land Rover used AR for a campaign with distinct lower-funnel KPIs because it is being used as a shopping tool for a luxury purchase.
Results (including context, evaluation, and market impact)
As part of the larger Velar launch, the campaign is on pace to achieve the pre-order goals for the launch phase. The Velar augmented test drive also beat benchmarks with an average of 42 seconds of dwell time. The campaign ultimately earned a 41 percent engagement rate.