Campaign Summary

Volvo reinvented its SUV to appeal to young, affluent luxury buyers. However, the brand needed to generate buzz for the car months before it reached dealerships in order to compete with established luxury vehicles in the space. The solution was Volvo Reality, a virtual reality experience that leveraged a proprietary app and Google's VR headset to let consumers "test drive" the car months before it was available for purchase.
Strategy
Objective and Context:
Buying any car, especially a luxury car, is a personal experience. Consumers need to see it, touch it, and feel it to truly understand it. Months away from the Volvo XC90's showroom debut, the brand had to come up with another way for people to experience it. The result was Volvo Reality, a virtual test drive using Google Cardboard, Google's low-cost VR headset. Available on both Android and iOS, the Volvo Reality experience combined photo-real CGI and proprietary 360-degree VR camera technology. This allowed users to get a truly panoramic view inside and outside the car, including through the car's sunroof. The experience took full advantage of the powers of Google Cardboard and smartphones' stereoscopic displays. It featured a scenic drive, an original score, and a narrative that let consumers escape into the experience.
The objective was simple yet daunting: How could Volvo let consumers touch, feel, and experience a car that was months away from hitting the showroom in a way that would generate significant buzz on a limited media budget? To add to the challenge, Volvo had never marketed to the luxury buyer segment before, so the brand needed to start from scratch, generating leads and creating demand and buzz around a new product.
Target Audience:
The primary goal of the Volvo Reality campaign was to generate leads who could be engaged by dealers once vehicles arrived in dealerships. Volvo's goal was to identify 100,000 leads in six months across a multi-phased campaign. The campaign was initiated through direct outreach to key influencers through direct mail, event lead capture tactics, and email.
The campaign generated 34,000 leads in the first month, allowing Volvo to communicate directly with app users through content updates, push notifications, email, and one-to-one targeted paid social ads. By overlaying third-party consumer data on its own lead data, Volvo was able to prioritize based on consumers' level of engagement and their propensity for purchase. Volvo Reality was a lead generation campaign that created an ongoing owned direct marketing channel.
The target was young, tech-savvy luxury car buyers who wanted something different than the BMW X5 or Audi Q5 and didn't currently have Volvo in their consideration set. This new audience was difficult for Volvo to reach and inspire, but the new XC90 was a perfect fit for their lifestyle. The Volvo Reality app allowed the brand to become relevant to this new audience in a way that was consistent with the brand and in line with the vehicle it was promoting.
Creative Strategy:
Over the last decade, Volvo has suffered a consistent decline in market share in the U.S. So when it redesigned its flagship SUV, the XC90, the brand knew it had to launch it in a new way. The solution was Volvo Reality, the world's first virtual reality test drive available to anyone with a smartphone and Google Cardboard.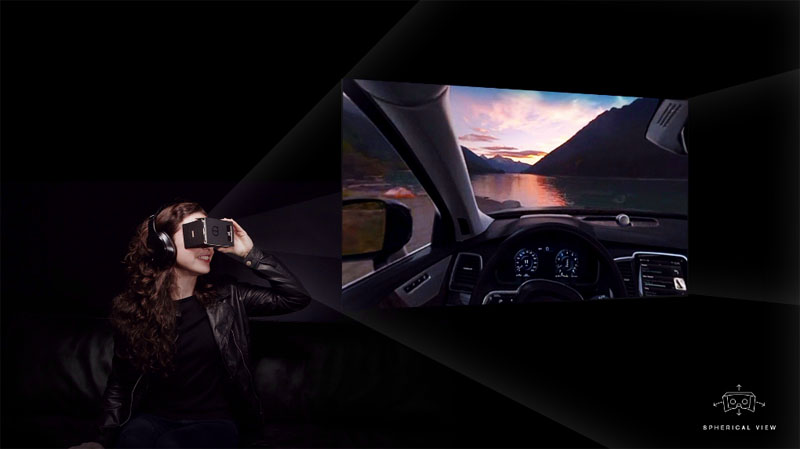 Execution
Overall Campaign Execution:
The campaign was launched and curated throughout with a series of direct communications to a highly targeted list of influencers. In order to maximize media and influencer impact, the app was soft-launched in November to 15 journalists who covered the intersection of design and technology. The journalists received direct mail packages explaining the product and campaign. The app was covered by publications like Mashable, Fast Company, and Digiday, and was featured in a series of special invitation-only events at the L.A. Autoshow.
A week later, the launch went public, publicized through a YouTube homepage takeover and supported by paid, social, and organic media and a sweepstakes where users could enter to win a free Volvo-designed Google Cardboard. The campaign was designed to capture consumers' emails and physical addresses in order to send high-end direct mail packages and follow-up communications.
Mobile Execution:
Throughout the digital and virtual reality interfaces, Volvo emphasized a simple harmony between nature and the XC90. The virtual reality headset and promotion collateral were produced with a black-on-black aesthetic to communicate the premium simplicity for which Volvo is known. This black-on-black aesthetic presents itself throughout the experience, from the XC90 in the video to the headset, shipping materials, app user interface, and promotional materials. And, just as the XC90 is now setting a new standard in sustainability, the headset technology was printed using sustainable inks.
The execution represented a series of serious firsts, most notably the first truly immersive VR experience to be delivered at scale through a smartphone and a $12 piece of cardboard.
Available on both Android and iOS, Volvo Reality was the one of the first Google Cardboard-enabled projects released in a cross-platform campaign. While other automakers had virtual reality experiences with Oculus Rift installations, Volvo Reality was unique in that it was available to anyone with a smartphone. The app itself is comprised of two 1080p HD videos running simultaneously, compressed and optimized for mobile, and the experience works both with and without a Google Cardboard headset.
Results (including context, evaluation, and market impact)
Context
The campaign generated more than 40,000 app downloads and more than 34,000 leads who requested to be the first to know when the XC90 would be available for purchase. Volvo was able to communicate with the 40,000 app users via ongoing content in the app's feed and through iOS notifications. The car manufacturer also engaged users with paid social ads, including Facebook custom audiences and Twitter tailored audiences, to drive them to local events and surround them with messages during key promotional periods. The Volvo Reality app represented a new direct marketing strategy where the initial marketing created a new owned channel ideal for one-to-one communication.
Evaluation
The campaign exceeded all expectations, garnering more than 238 million PR impressions, 159 million paid media impressions, 19 million social media impressions, and nearly four million video views, earning 24 news stories and generating a half-million web page views.
Market Impact
The entire run of first edition XC90s sold out in less than two days.