Campaign Summary

Target wanted to enhance its Holiday Kids Gifting print catalog and upgrade the tradition of wish-list making to create a multichannel wish list experience for moms and kids. The brand developed an app with a 3D animated game-like experience in which kids could build wish lists and send completed lists to Santa. Meanwhile, Moms could access wish lists and share them with relatives, and the list would automatically adjust when relatives bought toys, much like a wedding or baby shower registry. The app also had an augmented reality function for in-store wish-list making. This was the first time Target launched an app for the holidays, and the limited initial launch generated nearly 75,000 downloads.
Strategy
Objective and Context
The strategic objective was to upgrade the Target Holiday Kids Gifting print catalog into an enhanced digital wish list experience that enabled multichannel conversion for mothers of young children. The app aimed to increase engagement with both mothers and children by putting a modern spin on traditional wish-list making while also increasing brand awareness and spend throughout the holiday season. The overall campaign goal was to make Target and Target.com the preferred holiday destinations over competitors such as Toys 'R' Us and Amazon.com.
Target Audience:
The Target audience for this campaign involved two groups: moms and kids. The brand focused on "Millennial Moms," who were not defined strictly as Millennials but as digitally-connected Moms with children in the preschool to tween groups. Target understood that Millennial Moms were budget-sensitive, deal-driven, and highly mobile, often relying on technology for shopping needs. During the holidays, their kids were their main motivation. Moms were seeing the season through their kids' eyes and aspiring to create unforgettable holiday experiences.
The "Kids" audience were all digital natives. While Mom was asking for the list, kids were driving the list content. Because younger kids would want everything, the list would be useful to help narrow items down for Mom. For older kids, the list could be used to tell Mom exactly what they wanted. Target knew that the kids segment was a large and growing focus, and that the brand tended to see a drop-off when kids got older and their tastes grew more specific, especially in the areas of sports equipment and fashion. For this reason, Target focused on kids ages three to 14, with a particular focus on ages four through 10. A large part of the goal was to provide content and choice for this range of ages within a cool digital experience so that the brand could capture the audience at a young age and maintain their interest as their tastes matured.
Creative Strategy:
Target wanted to make it easier for parents to create, manage, and share their kids' wish lists over the holiday season. The solution needed to modernize wish-list building, which traditionally involved circling images in print catalogues or cutting and pasting, into a digital experience that could be easily managed and shared by parents. The experience would leverage Target Registries technology so that lists could be shared in-store and online, and also update automatically as items were purchased, in the same way that a wedding or baby shower registry would work.
Target also took into consideration the fact that kids' wish lists are the engine that drive holiday shopping for moms. Managing the list can be complicated, and therefore a source of stress for parents. Moms delegate the list to family members, track and compare prices, choose retailers, and add in surprise gifts for their kids. Mothers share lists in different ways, from analog written lists to emailed product links to kid-created Pinterest boards, depending on the participants' digital savvy. The solution needed to be as easy as pencil-and-paper list making, but offer other benefits, such as savings, one-stop convenience, and some surprise and delight for mothers as well.

Execution
Overall Campaign Execution:
The solution was a dual mobile app experience, half of it a fun and engaging list-making game for kids and the other half a clean, simple interface where mothers could organize, edit, and share the lists. In the game experience, kids were invited to visit the Target Toy Factory with Bullseye, Target's holiday mascot, which featured 3D-animated rooms, avatar characters, drag-and-drop wish list creation, a letter to Santa, and even an augmented reality experience launched by the Target Holiday Kids Gifting catalog. Once lists were created, parents had secure access to their kids' lists that allowed them view, edit, and share lists with friends and family. And, since the wish list was backed by Target Registry functionality, lists were also searchable in-store and on Target.com, and gift purchases could be removed from the master list throughout the holiday season.
The mobile channel was chosen as the most appropriate channel for this app based on findings about the key audiences and cultural insights surrounding the holiday season. The audience of digital natives (kids) were already familiar with mobile interaction by the time they were a year old. The iPad was also the perfect size for the game and often used by mothers and kids, especially on the go. Kids had already used mobile devices for entertainment, education, skill-building, and creativity, so an e-commerce app packaged in a game-like experience would feel familiar to them. And Target's audience of Millennial Moms used their phones frequently to organize multiple lists and tasks. A mobile app was also the smartest way to translate the more analog brand experiences, including in-store shopping and print catalogs, and create a bridge to Target.com that would keep mothers and kids engaged.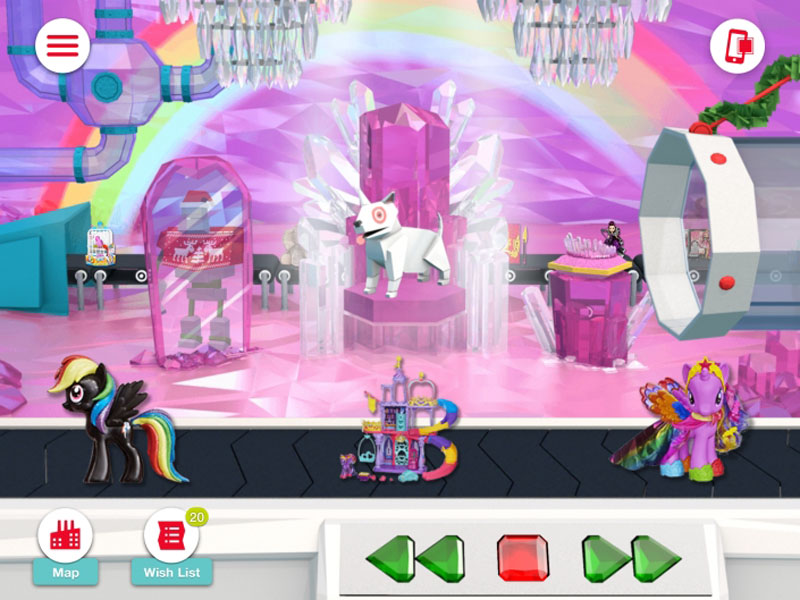 The Target Wish List app was promoted through other channels of Target's holiday marketing, primarily the Target Holiday Kids Gifting print piece, and through in-store promotion of the app, social media, special event promotion, and PR. There were some adaptations made in real time throughout the holiday season to reflect the latest trending toys and update inventory and pricing, and to release Deal-of-the-Day and other money-saving promotions.

Mobile Execution:
The Wish List app was innovative on many fronts. It managed to address two very different objectives for two very different audiences. Kids had a fun and engaging game experience to interact with and personalize throughout the season, and they came back over and over. On the flip side, parents had a simple and easy way to view, edit, and share lists, complete with money-saving offers and complete control over the family's accounts, all tied to one Target.com login.
The app was also innovative in its creative execution. Target wanted to give kids a digital world similar to an animated Pixar movie, one that would transport them to their own holiday wonderland, where they controlled the characters, the rooms they wanted to visit, their wish lists, and Wishing Headquarters. To accomplish these goals, Target worked with a local animation studio and created 3D-rendered worlds where holiday toys and characters came to life.
T
he app even allowed kids to send a digital letter to Santa when their wish lists were complete.
The app included an augmented reality experience, in which kids could scan pages of the Target Holiday Kids Gifting catalogue and add items from the page right onto a digital wish list. The AR animation showed toys being "sucked" into the toy tube and into their Wish List Headquarters in the same way that toys in the digital factory were added to the list. The AR experience also included a scan of the catalog cover, after which the child could see his/her avatar character come to life, and a special message with his/her name scrolling across the catalog cover.
Though Target had attempted to launch a holiday wish list solution for the previous several years, this was the first time they had successfully gotten an app to market in time for the holiday season. The brand leveraged the successes of its other mobile apps, including Target Registries and Cartwheel. The app was directly tied to Target Registries and linked to Cartwheel with an offer for 10 percent off the entire wish list throughout the season. It also allowed for stackable discounts from any source: Cartwheel, in-store, manufacturer discounts, mobile coupons, and Target Red Card discounts.
Results (including context, evaluation, and market impact)
Though the app was released in limited distribution for its initial launch, the data collected from users proved that it was a success. Among nearly 75,000 downloads of the app, over 100,000 wish lists were created, as well as 9,200 new Target.com accounts. Sixty-one percent of users used the app multiple times a week, including 31 percent who used the app multiple times per day, generating over a million page visits to Target.com via the app. The average wish list was comprised of about 30 items and had an average value of $1,500. Over the course of six weeks from app launch to the close of the holiday season, nearly 1.7 million total items were added to Target guest wish lists, for a total sales potential of $92.3 million.