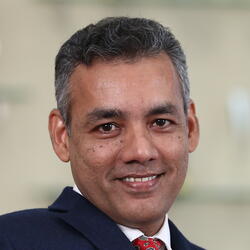 Ravi Santhanam
MMA India Board Member; Chief Marketing Officer
Mr. Ravi Santhanam is Chief Marketing Officer at HDFC Bank. 

In his current role, he is responsible for analytics, brand & communication, and digitizing the entire customer experience.

Prior to joining the bank, Ravi was working with Vodafone – first as its COO for Uttar Pradesh and later in 2013, to lead the newly created business vertical of Data, Devices, and Content & Innovation where he was accountable for the fast growing data business and feels privileged to have contributed to the current data led revolution that is happening in the country.

Ravi has total experience of over 20 years and has also worked with Reliance Communications, ICICI Bank, and PowerGen across functions including Strategy, M&A, and Operational & Functional leadership roles.

Ravi has completed his B. Tech (Mechanical Engineering) from Anna University and MBA from Indian Institute of Management, Calcutta.

A passionate football fan, Ravi is married with two teenage kids who he believes are his primary teacher on all things digital and digital experience.