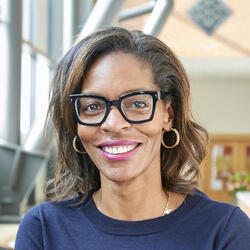 Charisse Ford Hughes
SVP, Chief Growth Officer
Charisse Hughes has been Senior Vice President, Chief Growth Officer, Kellogg Company, since May 2023. She is a member of Kellogg Company's executive committee.
Ms. Hughes joined Kellogg Company in 2020 as Chief Marketing Officer. Prior to her current role, she served as Chief Brand & Advanced Analytics Officer.
She is responsible for driving the growth agenda for the company through leadership of Global Brands, Innovation and R&D, Commercial Advanced Analytics, Marketing Excellence, and Licensing & Cultural Initiatives.
Ms. Hughes' vision is to create a future-ready Kellogg with a winning portfolio of leading, iconic global brands, characters and innovations that inspire consumers to sit at our table. She is committed to creating personalized engagement and inclusive experiences enabled by deep data-driven understanding and advanced analytics/machine learning.
Prior to joining Kellogg, Ms. Hughes was the Chief Marketing Officer for Pandora Americas. Her experience also includes marketing and brand leadership roles with The Estee Lauder Companies, Avon Products, Inc. and Sara Lee Corporation.
Ms. Hughes serves on the Board of Directors for Crocs, Inc. She is also a Board Advisor for Pixability, the #1 YouTube optimization and brand suitability platform, and a member of the Executive Leadership Council.
She is a passionate advocate for ED&I, serving as the Executive Sponsor for Women of Kellogg+. She is also an active leader in the Kellogg African American Resource Group and is a mentor to many people of color.
Ms. Hughes received a Master of Business Administration degree from the Kellogg School of Management at Northwestern University and a Bachelor of Business Administration degree in Finance from Howard University.