July 13, 2011

CLIQ Digital

"CLIQ's global ambitions are being effectively realized by our partnership with DMG. The interaction between the CLIQ sales team and DMG's dedicated account managers is the key to CLIQ's expansion strategy, and the increase in ROI. DMG's outstanding ability to optimize on multiple variables through the Traffiliate platform results in excellent campaign performance. Apart from this, DMG provides strong feedback, which is used to take CLIQ's mobile strategy to the next level".
Benjamin Pomerantz
Network Director,
CLIQ Digital
Mail: benjamin[at]cliqdigital[dot]com

The Challenge:
Rollout in different markets and reach ROI goals.

CLIQ Digital is a multinational leader in digital entertainment on the move. Formed by a merger between TMG (Triscreen Media Group) and Blinck International B.V. in 2010. CLIQ Digital operates within two business lines: digital marketing services and mobile value-added services.
The challenge was to expand mobile marketing activities to different countries around the world. To do so, the mobile brand YAMOJA was born, and its goal is to become the number one global brand for mobile entertainment.
The challenge is to build an extensive mobile webshop with many different products, such as sweepstakes, mobile content, games and mobile chat, but also be able to integrate different payment methods and advertising capabilities. The webshop serves the mobile user content that matches their phone or communication device.
YAMOJA already has the capability to target any device and any screen resolution by making use of in-house smart targeting and device specific rendering solutions. This is currently live in multiple countries.
Challenges:
Improve CTR per campaign
Work on different billing methods per country
Serve users value for money products
Rollout new countries
Introduce new products and services

The Solution:
Capturing, tracking, optimizing and real-time reporting

DMG's Traffiliate for Mobile, is a unique technology platform for the management and total control of mobile campaigns, delivering a coherent, centralized picture of all of the campaign's process parameters (including Geo, Publishers, Carriers, Device Make & Model, Operating System, Creative, time schedule, and more). The platform provided real-time
ROI-driven optimizations for every YAMOJA campaign:
Traffiliate enabled a precision targeting of each campaign:
It displays very clearly what exact devices and operating systems are succeeding per product group, carrier and traffic source.
The aggregated information was consolidated into a unified report that shows campaign growth and performance optimization.
The platform served users with the best-performing landing page for their personal device profile.
Through continual monitoring, analysis and campaign optimization, Traffiliate has allowed DMG and CLIQ to increase and maximize campaign volumes and revenues.

How it works

A user clicks on a banner or text ad on a mobile website →
The user is redirected to the mobile landing page that is optimized for the user's phone →
The user signs up and is billed via a possible billing method allowed in that country.
Different products have different sign-up flows. We work with the standard MO flow, PIN code flow and have implemented other conversion boosting functionalities, such as Click2SMS, Click2Call, MSISDN forwarding or WAP billing solutions.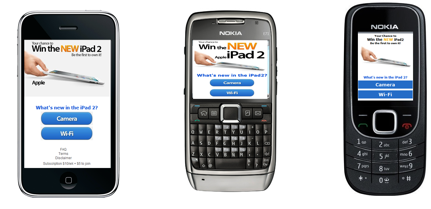 The Results:
Converting performance into measurable achievements

To date, in a little over a year, the DMG-CLIQ partnership has achieved:
ROI exceeded 100%
1,455,321,413 impressions served
9,893,872 clicks generated
Experience in multiple regions such as APAC, EMEA and North America.
Continuous growth, with activities underway for additional targeted countries. Both DMG and CLIQ mobile teams are cooperating to double the results by the end of this year.