March 20, 2009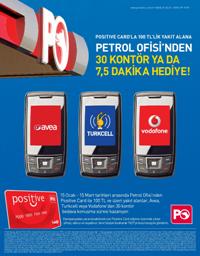 Brand: Petrol Ofisi
Category: Automotive
Agency: Aerodeon
Vendors: Avea, Turkcell, Vodafone
Timeline: 15.01.2009 – 15.03.2009
Summary:
The campaign is launched in order to increase the usage of Positive Card at Petrol Ofisi stations. With Positive Card, Petrol Ofisi offers advantages and gifts to its customers in their fuel purchases.
During the campaign period, for every purchase of fuel with Positive Card that costs 100 TL and more, the customers are given POS slips with a unique code on. Participants, who text the unique code with their name and surname to 7627, instantly win 30 Credits/ 7,5 airtime from Petrol Ofisi.
In order to support the campaign in each level, Petrol Ofisi sponsored the Turkcell weather forecast service in February. Everyday Turkcell subscribers are receiving three day weather forecast report of the city they are living via SMS. There is a sponsorship area in each weather forecast message. By initiation of Aerodeon, Petrol Ofisi has taken the advantage of February sponsorship in order to promote Positive Card campaign.
Furthermore, Cell Broadcasts are done to promote the campaign to Avea and Turkcell subscribers all around Turkey. Besides, to reach Vodafone subscribers Call me application is used.
Results:
A significant increase in Positive Card usage is observed during the campaign period at Petrol Ofisi stations. Even customers who don't have the Positive Card began to request it after the campaign has begun. A total of 1.025.000 participations are gathered in 2 months. Unique participation is over 250.000.