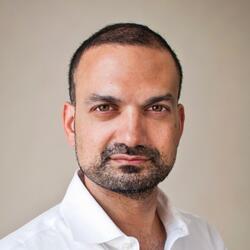 Vinodh Bhat
Co-founder, President & Chief Strategy Officer
@Vbhat
Vinodh (Vin) Bhat is the Co-founder and President of Saavn, a consumer technology company that is the largest digital music/audio service for South Asians globally. Saavn was incubated by 212MEDIA and its consumer presence was launched in 2010 with Google. Every month, Saavn has more than 18 million unique people actively listening to music/audio using its iPhone, iPad, Android, Windows Mobile and desktop applications. The company works closely with Facebook, Google, Twitter, Shazam, and many other global consumer technology partners. Over 300 global companies advertise their brands on Saavn including Apple, Amazon, Samsung, Hyundai, Tata, Emirates, Microsoft, HP, Bose and Vodafone. The company is based in New York with offices in Mountain View, Mumbai, Delhi and Bangalore. With an incredibly talented team, Vin helps manage the company's purpose, recruit talented individuals to join the Saavn team, and lead overall business growth. He is a recognized speaker at industry conferences around the world.
Vin is also a Founding Partner at 212MEDIA, a venture studio that conceives new consumer Internet ventures focused on fragmented, underserved and passionate audience segments. 212MEDIA is based in New York City.
Prior to Saavn and 212MEDIA, Vin co-founded and served as the VP, Sales & Business Development at Simile, a contextual advertising platform that worked with business units of Time Warner, Cox Media, McClatchy Newspaper Group, Scripps Networks and Hearst Magazines. He began his career at the investment bank Donaldson, Lufkin & Jenrette (DLJ) and helped provide advice and raise capital for media & telecom companies such as AT&T, Akamai, Voyager, Earthlink, @Home and several others.
Vin graduated with a B.S. in Finance and Marketing from the McIntire School of Commerce at the University of Virginia and was an Echols Scholar. He loves tennis, reading, music/concerts, the New York Yankees and the New York Jets. He lives in New York with his wife and 2 small children.