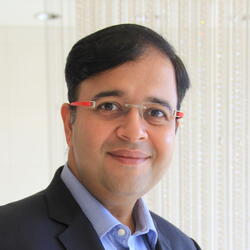 Umang leads the Global Marketing Solutions teams in India and plays a key role in building and maintaining strategic relationships with top clients and regional agencies.
Umang has close to two decades of leadership experience covering sales, marketing and partnerships where he successfully built teams and grew businesses for multinational companies like Intuit, Symantec and Sun Microsystems. Prior to joining Facebook, Umang was the Managing Director of the South Asia region at Adobe. He was responsible for growing their business in India and helping India grow to amongst the leading markets for Adobe in the APAC and global regions.
He is an engineering graduate from University of Pune, an alumni of Harvard Business School and the recipient of the prestigious '40 Under Forty: India's Hottest Business Leaders Award 2014' given by The Economic Times and Spencer Stuart in 2014 and most recently GQ's 50 Most Influential Young Indians for 2016.
Umang enjoys golf, photography, travel and speaks often on Digital Marketing at industry events and at academic institutions.