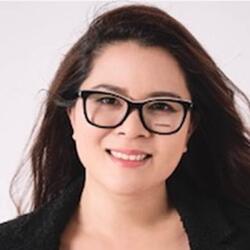 Ha Tran is undertaking the role of  MKT Director in L'Oreal Vietnam today, in-charged of all Brands Marketing, Digital Marketing and Online Business acceleration in Consumer Products Division. Prior to joining L'Oreal Group, Ha was greatly enriched by 15 years experiences in Brand and Consumer Marketing with all well-known brands across FMCG categories such as Male Grooming, Home Care, Biscuit & Cake, and now Beauty category.

Ha is indeed a Seasoned Marketing Practioner, business-results oriented, and balanced mix between the logical and the magical as marketer, therefore HA is always an enabler, a transformer to drive for all games changer and pioneer in all marketing & branding activities proven with her best brands awards, and remarkable business impact and results over years.
Now with L'Oreal Beauty that moves the world, Ha Tran is fully empowered to drive the beauty that moves in Vietnam with her greatest DNA and working experiences contributed to L'Oreal Group as well Marketing Community.