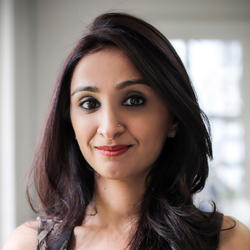 Shanti Tolani
Country Manager Indonesia
Mobile Marketing Association
Armed with a Master's degree in Business Management from The University of Berkley – Michigan and a Bachelor's Degree in Media Communications & Advertising, Shanti has managed business of some of the best clients of Edelman Indonesia namely, Asia Pulp and Paper, Unilever, Mondelez, Spotify, HP and Moonton Mobile Legends. She was also working alongside the CEO of Edelman in managing the new business opportunities that Edelman is taking up for 2019.
Prior to her experience in Edelman, Shanti was selected as the Project Manager in the communications department of The Asian Games 2018, under INASCOG and managed their core communications team for 5 months before joining Edelman Indonesia. Her team was responsible for the pitching process of advertising agencies and other media agencies that were selected for presenting their 360 degree creative campaigns, advertisement ideas and OOH advertising plans, as well. Once selected and finalized, Shanti joined Edelman Indonesia to step into a whole new experience.
Before her journey with The Asian Games, Shanti was given the opportunity with a vision to contribute to the cultural dialog and to provide young Indian-Indonesian women with a platform to broaden their horizons had surfaced, and so did the role of Country Manager of Miss India Indonesia, a cultural beauty pageant for young women of Indian origin in Indonesia took shape. Indonesia participated among 45 other countries internationally on the platform of Miss India Worldwide. Shanti Tolani encapsulated the pageant with the Embassy of India in Indonesia, the Ministry of Tourism Indonesia, the IFC New York, , the national and international media, the personalities and celebrities of the jury panel, the event organizers, the hotels, the production houses, the internal and external technical teams and the sponsorship's – all of this to bring the pageant to successful heights.
A professional journey for Shanti Tolani had begun in the challenging insurance industry in 2009 at Munich Lloyd International Brokers. As a Business Development Manager, the focus was on Client Relations, Client Management and the Internal Management of every department. After a successful 5-year stint in the business world, a foray into the dynamic world of Entertainment Management was made.