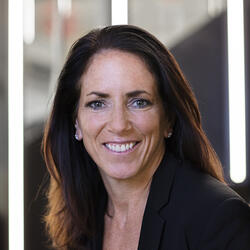 As a global marketing executive, Rebecca Messina has always taken a people first approach and has turned that approach into growth for the teams, brands and businesses she has touched over her nearly 30 year career. Since late 2019, Messina has been advising private clients as well as serving on boards and as a Senior Advisor with McKinsey & Co. across CPG, tech, retail, health care and other sectors. Messina helps advise on modern marketing, marketing transformation, loyalty, brand building, marketing capabilities and organization strategies. Messina is directing her energy with private clients to high growth businesses, with global scale potential, that align with her passion to bring more access and disrupt 20th century conventions in food, beverages and mental, physical and emotional wellness.
Prior to advising, Messina most recently served as Global Chief Marketing Officer of Uber. As Uber's first-ever CMO, Messina focused on standing up Uber's first global marketing organization, building a world class marketing network, with the mission of helping the company define a strong brand in the hearts and minds of the consumers, drivers and communities it serves.
Prior to joining Uber, Messina was the Global Chief Marketing Officer of Beam Suntory. Messina assumed that role in early 2016 and was responsible for the company's global brand strategy development and communications, product innovation, research and development and consumer insights for Beam Suntory's world-class portfolio of brands – including Jim Beam, Maker's Mark, and Yamazaki Whisky, among others.
Prior to joining Beam Suntory, Messina built a 22 years career at The Coca-Cola Company. In roles of increasing responsibility and leadership, Messina joined Coca-Cola in 1994 and spent five years in Atlanta with numerous global media and marketing roles before expanding her career in Chile, Australia, France; and ultimately, back in Atlanta, where she held numerous roles of increasing responsibility, including, Vice President, Global Marketing Capability & Integration. During her time in that role, she led the strategic development of the global marketing agenda (DNA: The Coca-Cola Way of Marketing) to continue growth in a highly competitive and changing landscape as well as ran Marketing Operations which included creative and media agency management, managing and deploying the selection and approach to agency engagement and selection around the world representing $4bn+ of annual spend. In 2014, Messina assumed her role as SVP, Marketing & Innovation, Ventures & Emerging Brands (VEB), the internal incubator at TCCC where she was responsible for leading the marketing strategy, innovation and capabilities for Coca-Cola's VEB portfolio of premium, high growth brands.
A native of Batavia, NY, Messina holds a bachelor's degree from Miami University (Oxford, Ohio) and speaks English, Spanish, French and Italian. Messina is married, has two children, and currently lives in Atlanta, GA.