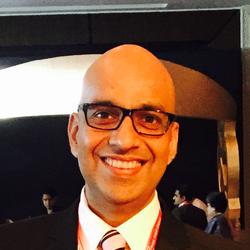 Mr. Rajiv Dubey, is Head of Media of Dabur India limited. Dabur is a Delhi based FMCG company which is #3 company in Market Cap after HUL and ITC. Dabur has a large portfolio of over 450 brands out of which 40 brands are advertised in Media. Dabur has some exciting brands in Oral Care, Hair Care, Skin Care, Health Care, Foods, Juices, Ayurveda categories. 
Rajiv, according to him, has been "born and brought up" in Dabur and virtually spent all his life in Dabur and has spent over 20 years here. Rajiv helped set up In House Media buying for Dabur under the name "Adbur" and worked as CEO of Adbur till June 2015. After media consolidation with Dabur's media planning and buying moving to Starcom Mediavest, Rajiv started in a new role as a Head of Media for Dabur.
Rajiv's key responsibility is to make Dabur's brands visible at lowest cost in a very competitive media scenario. 
Rajiv lives in Noida, near Delhi has a teenage son and a very demanding wife who wants him to go to work every day, else he would have taken up cycling as his full time job. Rajiv, to his credit has participated in several National and International level events in Cycling and running. Rajiv is also a passionate runner and have survived several marathons. His keen interests are blogging and bragging about cycling and listening to some great music.