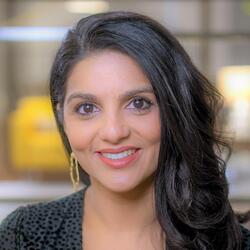 Nileem Jani
Senior Director US Mobile Carrier Marketing
Nileem Jani is an innovative and transformative business leader with 17+ years of consumer product sales, retail, and digital marketing passion. Nileem's relentless focus on customer experience & technology innovation has helped her become a C-Level executive in product marketing & sales. Her vast knowledge in consumer space comes from years of wireless industry, management consulting, product sales, marketing and retail roles. Nileem is currently at Samsung Mobile and is the National Account CMO for Carrier & Channel Marketing. Nileem is responsible for driving and delivering $5B in annual revenue for the world's largest mobile carrier account. In this role Nileem owns the product value proposition, end-to-end digital and retail customer experience, acquisition and retention messaging strategies.
Prior to Samsung, Nileem was Executive Director at Verizon Wireless. In this capacity, Nileem was responsible for a$300M product portfolio that includes personal storage, media & entertainment, and connectivity products. While at Verizon Nileem led the Product Innovation and Design team and collaborated with other large fortune 500 companies. In this role she leveraged consumer and product research to develop new hardware & software solutions.
Nileem is a key executive sponsor for Diversity and Inclusion programs. Additionally, Nileem is an active mentor for the Built by Girls and Girls Who Code programs that support females in the STEM. Nileem sits on the board of directors of HerHuddle, a national organization to advance women in the workforce. Nileem is also a mentor, professional and mom. Work-life integration is very important to Nileem and this was one of the reasons she was the proud recipient of the 2015 "Working Mother of the Year Award" from the "She Runs It" organization (formally Advertising Women of NY).