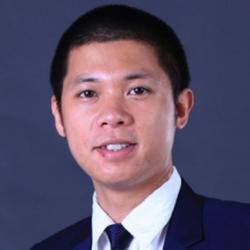 Huy has 13 years experience in digital industry, from technical to creative and strategic consulting. He held the position Chief Digital Officer at Ogilvy Vietnam before founding DigiPencil MVV in 2014, a digital innovation company with the mission to innovate marketing, operation and distribution in business models with digital and mobile. Over the years, he has been consulted and executed award winning digital and mobile strategy for international brands and Vietnam's local enterprises such as Unilever, Nestle, Kimberly Clark, Mitsubishi Electric, MobiFone, Vinhomes, VNG … Huy is also a lecturer and visiting speaker in various industry forums.
He received awards from AdStars, Smarties. Mr Huy is a popular guest speaker in several marketing and entrepreneurship forums in Vietnam. He also designed and lectured in marketing coaching courses at Sage Academy, MVV Coaching, CFVG Master of Sales and Marketing. He designed his own digital coaching course Digital-ized Marketing at Sage Academy.
Mr Huy holds a masters degree in business administration management at Royal Melbourne Institute of Technology.