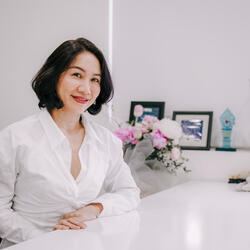 Minh Huong Nguyen
Golden Communication Group
For almost two decades, Madam Huong has exemplified pioneering leadership in Vietnam's communication sector. Her unwavering dedication has contributed to shaping the industry's development. 
Madam Huong's impact extends to founding and expanding the Golden Communication Group, a journey that has propelled it to eminence as a distinguished communications conglomerate.
Her expertise shines in strategic planning and risk management within communication, evident through her involvement in numerous successful collaborations with giants like Unilever, Samsung, Abbott, FrieslandCampina, Dragon Capital, and VTV…. These accomplishments underscore her finesse in navigating modern communication intricacies.
Madam Huong's influence surpasses corporate success, as she's sought-after as a risk management speaker for esteemed entities including Sendo, Dragon Capital, and Manulife…. Her adeptness in conveying and guiding businesses through risk complexities solidifies her authority in the field.
With a legacy embracing corporate triumphs and educational contributions, Madam Huong remains an influencer, shaping Vietnam's communication landscape through unwavering dedication and innovative leadership.