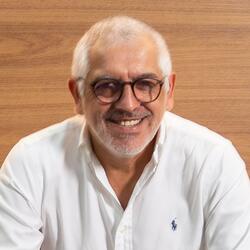 Quem é Miguel Caeiro? 52 anos em 2 minutos:
Português, apaixonado pela sua família, casado à 25 anos, Pai de 3 adolescentes, católico convicto, paixão por carros, viagens, cidades de eleição e de coração são Lisboa, NY, São Paulo e…. Praia, boas Praias...
Percurso profissional em torno de uma paixão pelo comportamento do consumidor. Passagem pela Direção de Marketing da Unilever, como CEO do Grupo Abril em Portugal, como VP Marketing de Internet da Portugal Telecom, como Country Manager da CESCE (Credit Risk do Governo Espanhol) ou Head of Latam da Lookout (Mobile Cyber Security) e mais recentemente como Head of Latam na Vidmob, empresa de Inteligência Criativa.
Vice-Presidente Voluntario na AHPAS, instituição com 20 anos que apoia crianças desfavorecidas no seu combate contra o câncer em São Paulo.
Formado em Administração pela Universidade Católica Portuguesa e MBA por Four Acres (Unilever/UK), Pós-MBA Inova Business School. Professor de Marketing Digital em Pós-MBA e MBA em SP, Campinas e Curitiba.