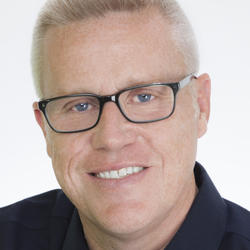 Michael is the founder and CEO of Pivot Factory, an advisory services firm that uses specialized innovation approaches to enable growth for its clients. Michael is the former CEO of ExO Works, Salim Ismail's exponential organizations firm and was an advisor to Singularity University.
Michael previously spent 20+ years in corporate development roles with leading education/media brands: Euromoney Institutional Investor,Kaplan IncandPearson Inc. He has worked across multiple client industries including financial services, healthcare, education and real estate. His career has seen him based in Hong Kong and New York and conducting business through South East Asia, North and South America, Europe and the Middle East.
Michael is a regular speaker on disruption, exponential technologies, exponential organizations and innovation. He has spoken in recent years in Bangalore, Cartagena, Geneva, London, Rio de Janeiro, Silicon Valley and St Tropez.
"Really loved the day with you and the other fellas. I've quoted many times what we heard." CEO Asda, (Walmart UK)
"Michael is an outstanding keynote speaker. The knowledge and expertise he brings to local companies are enlightening, pragmatic and conducive to their growth." KONG Weiguo,Founder and CEO of the Five Hundred Club, (China)
"A good reminder of our important role in navigating the friction." CXO New York Public Radio
"Very enlightening session and a great reminder about how the future is upon us!" VP Giorgio Armani Corporation
"Scary or exciting session? Answer is both!" SVP Virgin Pulse
"My takeaway - an area to yet unlock - is to look at labor as a variable vs fixed cost, by utilizing crowdsourcing technology (a la TaskRabbit, Upwork) to find specialized/temp talent. Thanks for the overview Michael!" SVP Kate Spade & Company
"Content was very relevant. Wish he had spoken for several hours – there's WAY more I wish he could've gotten into. Overall, very good session." Evanta CHRO Summit Attendee