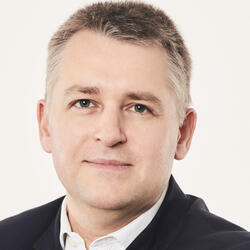 Lex's career has spanned the growth of the web from the 56k modem to 4G mobile, and has covered North America, Europe and the Middle East.
Lex is Chief Marketing Officer of L'Oréal UK & Ireland, a role he has held since October 2019. Prior to this, Lex held roles in the Western Europe Zone and was Chief Digital Officer of L'Oréal Middle East and Africa Region. The CMO team in the UK has a broad reach covering deep expertise in media, data and technology as well as consumer and market intelligence – and the key responsibility today of accelerating the transformation of the eCommerce business.
Prior to joining L'Oréal, Lex was the Senior Director, Digital Strategy for McDonald's Europe as the world's largest QSR organisation digitalised its customer experience and engagement – working on programs from the Happy Meal Studio educating children in reading and creativity to online and digital ordering in-restaurant. As part of the Business Partnerships team at Facebook he has worked with clients to drive better ROI on their marketing investments. He was been the industry lead for CPG, travel, finance and automotive, with a focus on digital and social strategy working hand-in- hand with creative and media agencies as well as brand marketers to leverage the breadth and depth of the social graph.
The first part of Lex's career in the agency world took him from Paris to New York and Dubai. He was the Regional Director for Digital Strategy & Innovation for Leo Burnett MENA. In this role he oversaw the digital, direct and CRM competencies for the region covering clients in automotive, telco and FMCG. He successfully managed the merger of Arc Worldwide and Leo Burnett into a full-service integrated agency and played a lead role in the acquisition of Flip Media into the group. Prior to this he was a Business Director for JWT & RMG Connect in Paris, and the WPP France Lead for the HSBC business as well as working for the relationship marketing group FullSIX, where he was responsible for US development.
Lex began his career as a brand planner at The Richards Group in Texas, working with consultants and multi-nationals to take their brands beyond communications and into the heart of the organisation; and as an online+offline account executive at OgilvyOne in Paris.
With his experience in Europe, North America and the Middle East, and a skill set covering advertising, brand marketing, CRM, media and eCommerce, Lex has a strategic, global, view of how digital is changing the face of business today, beyond the realms of marketing into operations, organisation and business strategy.
He has an MBA in Strategy from the UPF in Barcelona, and undergraduate finance degrees from Kedge Business School in France and the Westminster Business School in London. He is trilingual.
Lex splits his time between his role at L'Oréal, helping charities and small businesses navigate the new digital world and finally, with his three daughters.