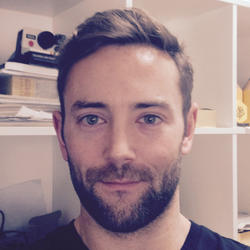 Jon Andrews
Creative Director/Managing Partner, Head of Innovation
Jon's been working in and around the agency environment for the last fifteen years or so and is currently Head of Innovation across the Ogilvy & Mather Group.
First and foremost a creative, Jon sits in the creative department and come's up with ideas. But he's also technical, which means he creates the ideas he comes up with too. The Cannes Lion Grand Prix winning British Airways digital billboard that points up at planes when they fly past for example: 
Working as a Creative Director, Jon's able to bring in Copywriters, Art Directors and other creatives to work directly into him, rather than the other way around - injecting technology into the conceptual phase and trying to come up with something fresh.
He's spent the last 15 years creating products and doing software development in just about every programming language going and is into electronics and hardware, which allow him to very quickly prototype ideas before presenting them to clients, rather than sketching things.
A tinkerer, a maker, Jon's really into creating products and prototypes that bridge the physical to digital realm and is passionate about connected devices and the "Internet of things".