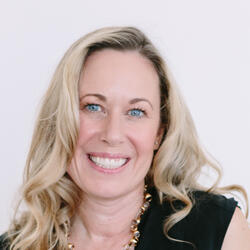 Jen is an entrepreneur of seven-figure businesses for over 20 years, and more than 25 years of international work experience. Originally from Canada, Jen's work has taken her around the globe. Initially starting her career in PR and communications for trade disputes and mergers in the European Union and World Trade Organisation, she soon found her love in entrepreneurship.
In 2003, she created a PR agency in London, Brussels and Dubai, and later created a communications-focused training company in Dubai, Abu Dhabi and London.
Today she owns a media training and public speaking coaching company in Dubai and London called The Communications Works. She also fell into entrepreneurship in 2020. and began supporting and helping other women, set up, run and grow their own businesses. Today she owns and manages Female Fusion, the UAE's largest community for women entrepreneurs with more than 20,000 members.
Jen is also a capacity building, training and entrepreneurship advisor for UN Women in the UAE.
She is a regular public speaker, conference and panel discussion moderator, virtual meeting / conference moderator and speaker, as well as a spokesperson in the media. Her area of expertise focuses on entrepreneurship, women in business, women in the workplace, health, wellness and resilience.