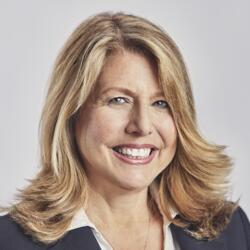 Jamie Moldafsky
Chief Marketing And Communications Officer
Jamie Moldafsky is Nielsen's Chief Marketing and Communications Officer. She joined Nielsen in November 2020 and is responsible for all of Nielsen's product and brand marketing and communications. Jamie will remain with the Media business after the completion of the separation of the Nielsen Media and Connect businesses.
Jamie is a seasoned marketing and communications professional with invaluable expertise, which she has gained over 30 years across a range of industries. Before Nielsen, Jamie was the CMO at Wells Fargo. In addition to that role, she was also an internal thought leader for and sponsor of diversity and inclusion and the WF Foundation.
Prior to Wells Fargo, Jamie held various senior leadership and general management roles at Whirlpool Corp., Charles Schwab and American Express, including VP and General Manager of KitchenAid, where she had full P&L responsibility for the brand.
Jamie has a Bachelor's Degree in English from the University of Michigan, where she graduated Cum Laude, and an MBA from The Wharton School. She is a board member for the Boys and Girls Club of San Francisco and No Barriers USA, which helps people break through personal challenges and live a driven, purposeful life. She also chairs the advisory board of Wharton Customer Analytics.
She resides in San Francisco, Calif., with her husband and two children.